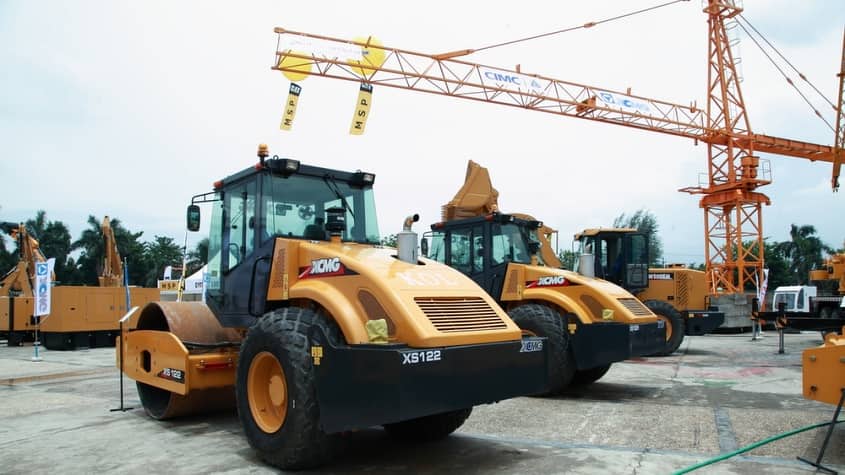 The 4th edition of BuildTech Yangon will be held from 18 to 20 May at the Myanmar Convention Centre, Myanmar. Over 4,000 delegates and 80 exhibiting brands will witness new developments in green building as well as other cutting edge technologies in the building and construction sector.
Organised by Sphere Exhibits, a subsidiary of Singapore Press Holdings (SPH), and co-organised by the Myanmar Construction Entrepreneurs Association (MCEA), the event will showcase the latest in building, construction and innovative technologies and materials with a special feature on Green Building.
According to the Asian Development Bank, Myanmar's economy will rebound and accelerate to 8% by 2018, and a new investment law passed earlier this year is expected to spur growth in the building construction sector. The law is designed to promote and facilitate both foreign and domestic investment in the economy. It lists the development of new urban areas and city development activities as promoted sectors.
U Tha Htay, President of Myanmar Construction Entrepreneurs Association (MCEA), said: "Yangon is the country's largest urban centre with over 5 million people and growing. As the economy develops, there will be more people who would live, work and play in this city and this will lead to a strong demand for quality housing, infrastructure, and buildings, built in accordance to world-class standards as well as sustainable and green principles. MCEA is fully supportive of the green building movement and is committed to nurturing and being part of its development in Myanmar."
He added: "BuildTech Yangon plays a key part in this development of Myanmar, bringing together the best minds in the industry to share knowledge and business opportunities. I am excited to welcome and meet the many delegates and exhibitors who have joined us for this event and look forward to the chance to learn and engage with my peers around the world."
Spearheading industry milestones at BuildTech Yangon 2017
BuildTech Yangon has grown to be a convergent platform for organisations to meet with their international counterparts. Several closed-door meetings between trade mission groups from China, Indonesia, Malaysia, Singapore will take place over the three days, further reinforcing efforts and further synergistic opportunities within the building construction sector.
Mr. Chua Wee Phong, Chairman of Sphere Exhibits Pte Ltd., said: "Myanmar is one of the most exciting markets in the world right now and for the foreseeable future. Building construction activity will continue to grow as the economy rebounds and foreign investments increase, particularly on the back of China's One Belt One Road initiative. There will be a need for sustainable and green development to support this growth, and this presents great commercial opportunities for companies and organisations. BuildTech Yangon will continue to be the place for the best minds in the industry to gather, where we work together to capitalise on opportunities and create strong industry bonds across the region."
An example of the strong bonds across the region fostered by BuildTech Yangon is the renewal of a Memorandum of Understanding (MoU) that will be signed at the trade show between MCEA and Singapore Institute of Building Limited (SIBL). The two organisations will be signing a renewal of a MoU made between the two parties in 2014 which led to an increase in the sharing of knowledge and commercial opportunities. The new MoU will deepen these close ties and set the stage for the launch of sustainable building initiatives through a Non-Government Organisation for Myanmar.
Further dialogues between Myanmar's Green Building Committee and regional green building councils will also take place to strengthen ties and spearhead support and collaborations within this sector.
Paving the way for Green Thinking
The inaugural Green Building Conference will be held at this year's event, bringing together experts from Yangon and around the region. Themed, 'Gateway towards a Green Myanmar', the two-day conference aims to share knowledge that will lead to sustainable and green development, and in building a vibrant, creative and productive city.
Prof. Dr. Swe Swe Aye, Chairman of the Green Building Committee, Building Engineering Institute of Myanmar Engineering Society and co-organiser of the Green Building Conference, said: "The Green Building Conference will bring experts in green building construction together with developers and builders in Myanmar and the region. It will be a platform for us as industry practitioners to learn from one another, share best practices and case studies, and nurture the growth of more sustainable and building-healthy construction in Myanmar."
The conference covers topics ranging from Green Building Energy Optimisations, Fire Safety Challenges in Green Buildings and Structures. The sessions will include Introductions to Green Buildings and Green Architecture with adequate case studies on recent green projects, as well as panel discussion on Regulations, Certifications, and Policies adapted to Climate Change.
"Asia Pacific is at the centre of the greatest urbanisation growth in history, and we have to double our efforts to ensure this growth is sustainable and that we meet our global climate goals," said Joelle Chen, Regional Manager, Asia Pacific Network, World Green Building Council, and one of the keynote speakers at the conference. "We are excited that Myanmar, as a frontier market, is hosting this green building conference, a step towards achieving green buildings for everyone, everywhere."
The latest in green building technologies and solutions will also be brought together under the Green Pavilion. Exhibitors include LJ Energy, a leading energy services company which provides energy audit, consultancy and management services, and SystemNix Group, an environmental innovation organization which successfully invented a revolutionary ecological engineering system which prevents wastage of natural resources while reducing the cost and duration needed in conventional construction.
Exhibition highlights
In addition to the Green Pavilion, delegates to the trade floor will have the chance to review the latest equipment, machinery, and solutions in a wide selection of exhibits catering to the construction, machinery, building materials architectural solutions and quality finishes segments. Leading companies from China, India, Italy, Malaysia, Myanmar, Singapore, South Korea and Thailand will showcase their products and solutions. These include Singapore-based Engineering Edge (Singapore) who will bring to visitors the latest in their range of Fastener brands such as DYNO and Tapperman.
I&H Engineering Co. a joint venture between the Myanmar Ministry of Construction and I&H Asia Pacific, has taken this opportunity to launch their new Yangon factory. The 65,272 sqm factory is located near Yangon and will be producing a range of construction materials such as PC Spun Pile, PC Bridge Girders and other building components and products.
In addition, there will be a special and highly anticipated brick laying competition this year, featuring a live assembly of a set prototype of a model building. It will pit the top construction companies in a national competition for the best in the trade. The objective of this national competition is to increase the skill level of workers in the industry as well as to incentivise award winners to further their skills in similar international brick laying competitions. Brick laying is an important and essential skill that is much needed in the construction industry. Competitions such as this will encourage workers to sign up to bricklaying courses in Myanmar's effort to stay ahead of the curve.
The third Construction Entrepreneur Awards will be held at MCEA's annual Gala as a co-organised activity with BuildTech Yangon 2017. The best and brightest of construction professionals who have succeeded in raising local standards and skills, and in incorporating the latest construction technologies into the entire ecosystem will be awarded at this annual event. Jointly awarded between MCEA and Sphere Exhibits, Diamond, Gold and Silver Awards will be awarded to the Best Contractors and Best Projects, and individual accolades to the Man of the Year and the Builder of the Year.
BuildTech Yangon 2017 is supported by the Association of Myanmar Architects; Building Engineers Institute of Myanmar; Italian Chamber of Commerce (Singapore); International Powered Access Federation; International Facilities Management Association, Singapore Chapter; Indonesian Chamber of Commerce & Industry; Green Building Committee, Myanmar Engineering Council;, Myanmar Engineering Society; Myanmar Industries Association; Malaysia Heavy Construction Equipment Owners Association; Master Builders Association Malaysia; Singapore Business Federation; Singapore Green Building Council; Singapore Institute of Building Limited; Vietnam Electronic Industries Association; Vietnam Building Ceramic Association; Vietnam Federation of Civil Engineering Association and WSH (Asia).
Delegates attending the conference are entitled to continuing industry development points by the Myanmar Engineering Council.For more information, visit http://www.btyangon.com/en.
For more information, please contact:
Deror Wong (Mr)
Assistant Manager
Corporate Communications & CSR
Singapore Press Holdings Limited
DID: +65 6319 1226
E-mail: derorw@sph.com.sg
Rabita Jamal (Ms)
Senior Manager, Trade Marketing
Trade Marketing
Sphere Exhibits Pte Ltd
Singapore Press Holdings Limited
DID: 6319 1675
Email: rabitaj@sph.com.sg
About BuildTech Yangon 2017
BuildTech Yangon 2017 is the leading trade exhibition platform serving the construction development of Yangon with a focus on infrastructure, residential and commercial buildings, transportation, manufacturing and trading. Co-organised by Sphere Exhibits and Myanmar Construction Entrepreneurs Association, BuildTech Yangon 2017 showcases cutting-edge technologies and products to address the growing need for building and construction industry. For more information, visit www.btyangon.com
About Sphere Exhibits Pte Ltd
A wholly owned subsidiary of Singapore Press Holdings (SPH), Sphere Exhibits, which stands for "SPH Events, Roadshows and Exhibitions", aims to be the leading events company catering to a diverse mix of trade and consumer clientele. Backed by a committed and experienced team of professionals and SPH's comprehensive range of media platforms, Sphere Exhibits' shows, events and exhibitions centre on unique concepts that attract local audiences and regional participants. Among the 20 Sphere Exhibits' events are The IT Show, COMEX, Licence2Play, Asian Masters and Kidz Academy. Leveraging on its expertise in event conceptualisation, planning and execution, Sphere Exhibits delivers memorable and quality events that meet the objectives of its clientele and partners. For more information, visit www.sphereexhibits.com.sg.
About Singapore Press Holdings Ltd
Incorporated in 1984, main board-listed Singapore Press Holdings Ltd (SPH) is Asia's leading media organisation, engaging minds and enriching lives across multiple languages and platforms, ranging from print, digital, radio and out-of-home media.
SPH owns award-winning newspapers, magazines and best-selling books in both print and digital editions, as well as online classified businesses in the region. In addition, SPH has two English radio stations and one Chinese radio station, an out-of-home digital advertising unit, a regional events and conferences arm, and runs a chain of modern retail convenience stores. SPH also has a 20 per cent stake in MediaCorp TV Holdings Pte Ltd, which operates free-to-air channels 5, 8 and U, and a 40 per cent stake in MediaCorp Press Limited, which publishes the free newspaper, Today.
SPH REIT comprises Paragon, a premier upscale retail mall and medical suite/office property in Orchard Road and The Clementi Mall, a mid-market suburban mall. SPH's latest retail development is The Seletar Mall located in Sengkang.SPH is in the healthcare sector, operating private nursing homes under Orange Valley.For more information, please visit www.sph.com.sg
About Myanmar Construction Entrepreneurs Association
Myanmar Construction Entrepreneurs Association has been associated with development of the country nationwide, evolving the development of economic, social and civil sectors as well as assuring the people's ownership of housing facilities. In addition MCEA set up cement factories for supply of cement for construction programmes, established Industrial zones for development of industries and also continuously endeavored in the construction projects for the development of Nay Pyi Taw, establishment of new satellite towns, hotels, settlements, highways, the New Yadanarbon City development, High Rise Building project in Yangon, Public Infrastructures for states and regions and construction programmes for special Economic Zones (Thilawa Special Economic Zones, Dawel Special Economic Zones). For more information, visit www.mceamyanmar.com