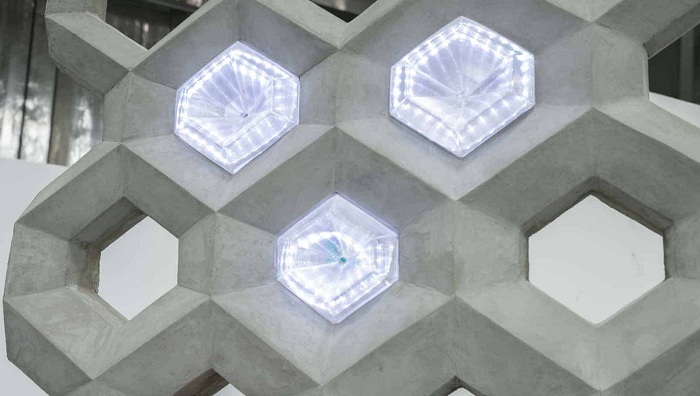 BigRep, the German large-scale 3D printer manufacturer, and Forward AM, the 3D printing business of BASF, introduced a new 3D printing material, CONCRETE FORMWORK, targeted to the architecture and construction industry.
Architecture is the representation of a cultural era. By transforming its design language, creators can redefine the world around us. However, reality comes crashing down when conventional formwork solutions quickly reach their limits as construction elements become more complex. To overcome this challenge, Forward AM and BigRep are expanding their partnership and have joined forces again to leverage the synergies between their main areas of expertise: Virtual Engineering, Additive Manufacturing, advanced material development, and large-format printing.

Concrete Formwork Material
Formwork, the moulds used in concrete construction, can make up 40 – 60% of a total budget, especially for complex shapes. Without 3D printing, some designs like organic geometries, double-curved surfaces, and cavities are simply not feasible to produce. They require highly skilled labourers to build customized formwork resulting in high costs, long lead times, and material waste.
Demonstrating the material's effectiveness and advantages for the construction industry, Forward AM and BigRep showcase the "Bespoke Stair at Nest Step2," designed by DBT at ETH Zürich with ROK, SW Umwelttechnik, and WaltGalmarini. The innovative concrete staircase expands the design possibilities of structural architectural elements, while minimizing costs, material waste, and skilled labor. NEST, to be built at EMPA in Zürich, is an innovative building utilizing digital fabrication and circular economy.
About Manufactur3D Magazine: Manufactur3D is an online magazine on 3D Printing. Visit our Tech News page for more updates on Global 3D Printing News. To stay up-to-date about the latest happenings in the 3D printing world, like us on Facebook or follow us on LinkedIn and Twitter.