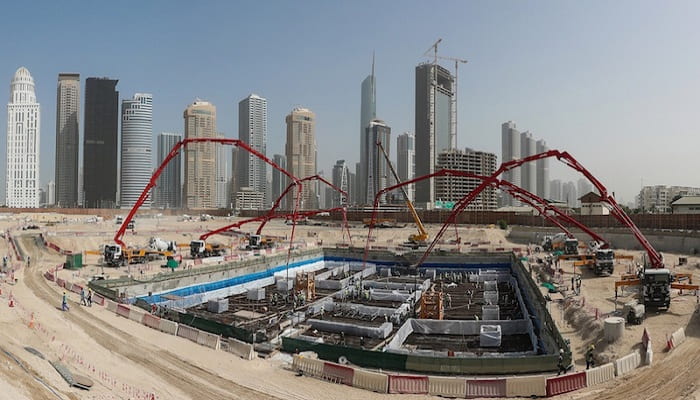 Belhasa Six Construct, a Dubai-based subsidiary of Belgian construction company Besix, has won a contract from Dubai Multi Commodities Centre (DMCC), a Free Trade Zone, Government of Dubai Authority, and master developer of Jumeirah Lakes Towers (JLT), for the first super tall tower in Uptown Dubai district.
Designed by Adrian Smith + Gordon Gill Architecture, the 78-storey Uptown Tower provides views of Dubai's waterfront and skyline.
The brilliance of diamonds is replicated through the faceted glass façade of Uptown Tower, which illuminates the interior spaces with natural light while filtering out harsh glare.
According to DMCC, the tower includes a luxury hotel, F&B outlets and serene health spa designed by the Rockwell Group and depicts the district's distinct and bold personality.
DMCC executive chairman Ahmed Bin Sulayem said: "Awarding Six Construct the contract to construct Uptown Tower is an important step in bringing the much-anticipated Uptown Dubai district to life.
"The quality on show from the bids received was incredibly high. This reflects the level of interest from the global marketplace to partner with DMCC, and be a part of an ambitious project that will add a new landmark to Dubai's iconic skyline."
In April 2018, DMCC entered into a partnership with Accor Hotels to bring the latter's luxury lifestyle hotel and resorts brand, 'SO/', to the Middle East for the first time.
Later, in August 2018, DMCC announced that the construction of the district is proceeding, with the completion of piling and raft works for the Uptown Tower.
BESIX Contracting Middle East general manager Olivier Crasson said: "Winning this contract is a significant moment for Six Construct given that DMCC's Uptown Dubai district is one of the most exciting projects in the region, and we look forward to working alongside DMCC to deliver to the emirate of Dubai a truly unique and inspiring new destination."