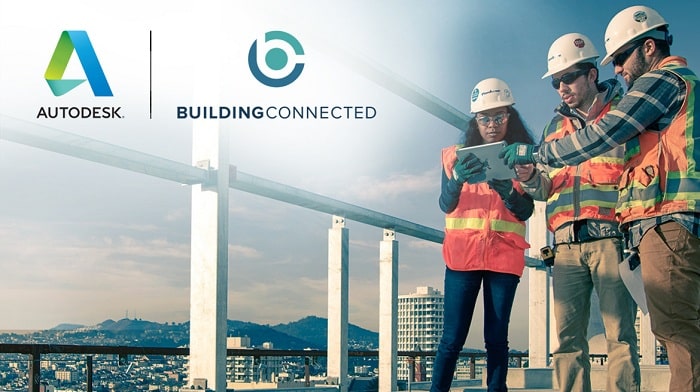 Autodesk Inc. recently announced the international expansion of BuildingConnected, a construction management solution that centralizes and streamlines the bidding process, and encompasses the Autodesk Construction Cloud builders network, a crowdsourced network of construction professionals.
Owners and general contractors use BuildingConnected to discover trade partners and identify the right subcontractor for the job, and to solicit and compare bids—also referred to as tenders—from one central location. With its international expansion, the BuildingConnected solution is now available in the United Kingdom, Ireland, Australia and New Zealand.
"There are more than one million construction professionals on the BuildingConnected network in North America alone, with over 2,000 general contractors and owners actively bidding out projects – totaling $56 billion in project values each month," said Jim Lynch, vice president and general manager of Autodesk Construction Solutions. "BuildingConnected effectively replaces an antiquated approach that has relied on Rolodexes and spreadsheets, and ensures the right teams are in place for every kind of construction project, whether a commercial building, data center, medical facility or infrastructure project. As BuildingConnected further expands internationally, we want to empower construction firms around the world with the resources they need to increase productivity and decrease project risk."
For estimating teams, BuildingConnected helps save time and increases collaboration in managing the bidding process with automated workflows that facilitate securing the best team for a construction project. Estimators and bid coordinators can use the solution's network of subcontractors and bid management capabilities to find, qualify and invite subcontractors to bid on a job, and then use its advanced bid comparison features to view all bid packages from one place with access to the real-time status of bids and project costs.
BuildingConnected empowers preconstruction teams to:
Quickly solicit bids with customizable templates and accurately compare those bids in a side-by-side "apples-to-apples" fashion
Track against internal budgets with real-time cost updates
Easily collaborate with other estimators on the team, and follow communications and bid versions
Export bids and summary sheets for transparent collaboration with owners
Gain valuable insight into historical bid data and reports to optimize for future projects
Inviting, submitting and reviewing tenders has historically been a tedious and time-consuming process, with building companies in the United Kingdom and Ireland commonly using a piecemeal combination of software such as email, cloud-hosted files, in-house technology and in many cases, paper. Using disconnected systems during tendering often results in inefficiencies and data loss that leads to costly mistakes, with general contractors and subcontractors losing time chasing or adding information after proposals are submitted.
"Mitigating risk during the preconstruction phase, which is when costly rework is most avoidable, is massively important to any company's gross margin," said Mike Pettinella, director of EMEA sales of Autodesk Construction Solutions. "Keeping data loss to a minimum while planning construction projects is one of the most critical aspects of mitigating risk. By bringing the entire tendering process under one roof, teams can keep both communication and data fluid, transparent and consistent across stakeholders. BuildingConnected will have a big impact for construction companies in the U.K. and Ireland on both sides of the tendering process."