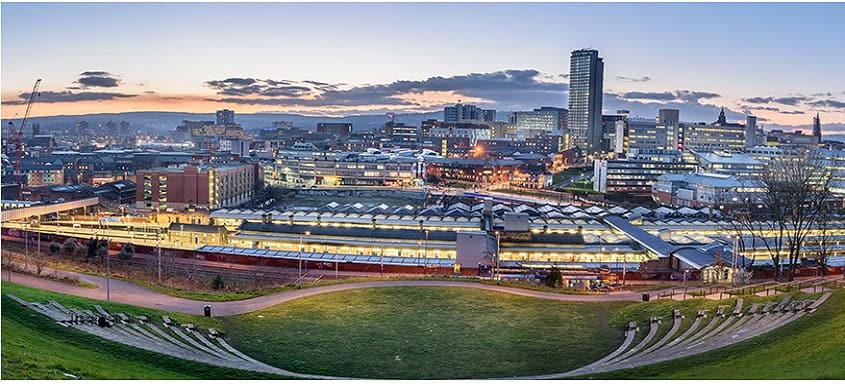 A consortium of world-class architects and engineers will develop a new master plan for Sheffield Midland Railway Station, transforming it in preparation for the arrival of HS2 and Northern Powerhouse Rail (NPR) services.
Atkins, a member of the SNC-Lavalin Group, will lead the consortium, working in partnership with Cushman & Wakefield, Lambert Smith Hampton, Merrett Houmøller Architects and Quatro PR. SNC-Lavalin acquired WS Atkins plc on July 3, 2017.
The team will provide a wide range of services, to not only make sure the station offers a fitting environment when HS2 services begin, but also to unlock the development potential of the surrounding area over the next 20 years; enhance passenger experience in and around the station; and improve connectivity to the station for rail, tram and bus users as well as cyclists and pedestrians.
The consortium has been appointed by a partnership comprising Sheffield City Council, Sheffield City Region, London and Continental Railways, Department for Transport, Ministry of Housing, Communities and Local Government, Transport for the North, Network Rail, HS2 Ltd and South Yorkshire Passenger Transport Executive.
The aim of the commission is to develop a solution that will:
Establish the blueprint for a high-quality and efficient passenger-interchange.
Maximise economic, social and environmental benefits in and around the station.
Shape an ambitious and phased strategy for delivery to maximise short, medium and long-term benefits.
Councillor Mazher Iqbal, cabinet member for business and investment at SCC, said: "This is a clear indication of how important the new HS2 station location is to Sheffield and the wider city region. The station is absolutely central to our city centre masterplan vision to deliver new jobs, businesses and opportunities to the region. It must be delivered in tandem with improving connectivity to the station and in keeping with our ambitions for a green and sustainable city that works for everybody in Sheffield. I look forward to seeing the plans take shape to deliver thousands of new jobs for our economy."
Journey times to London will be reduced by 40 minutes when HS2 services start in 2033, however the development of the station in preparation for high speed rail is expected to bring immediate investment and economic benefits to the city.
The improved station will also support more frequent and faster rail services to Manchester, Leeds and other Northern cities, including through the planned Northern Powerhouse Rail programme.
The Council's This is Sheffield Plan, released earlier this year, predicted up to 25,000 new jobs in Sheffield between 2014 and 2024, which could lead to a 15 per cent growth in demand for public transport. The masterplan will help ensure the city region maximises the economic opportunities and impact of improved rail connectivity.
Work on the integrated masterplan will be completed in April 2019 and will also be a major element in the wider Sheffield City Region Growth Strategy that is currently in development.
Mike Gardner, Atkins' Project Director, said: "Our masterplan will help ensure that by the time HS2 arrives in Sheffield, the station will be a focal point for the city and offer a first-class experience for passengers. Crucially, we're also planning beyond the station to ensure that adjacent commercial and residential developments are a catalyst for delivering the city's wider growth and regeneration ambitions."