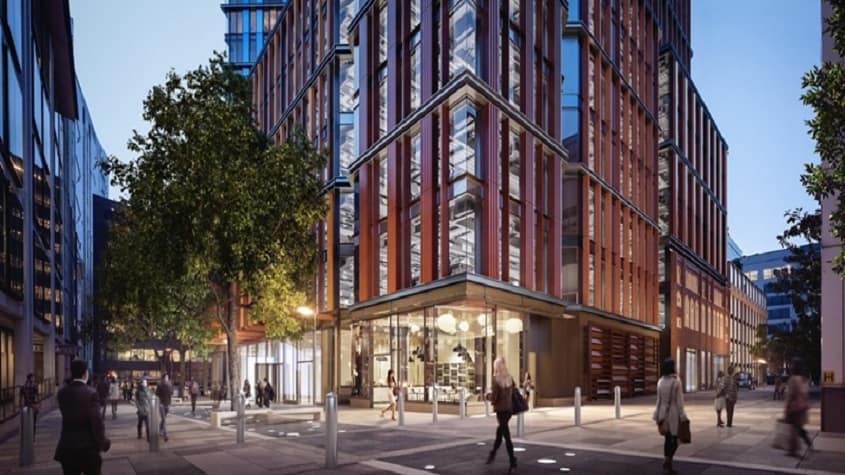 AlloyMtd Group has announced the appointment of Mace to deliver the redevelopment of One Crown Place.
Following a successful pre-construction phase, Mace was chosen because of its experience in building high quality and complex developments. The main contract was signed today, a major achievement for the project in today's challenging market. Construction is due to commence on the site in April this year.
The unique feature of One Crown Place is its combination of modern, cutting-edge architecture housing a mix of modern offices with spectacular apartments on the upper floors.
In contrast, the last remaining complete row of Georgian houses in the area fronts the scheme. Measuring 22,000 sq ft of net area, they are to be sensitively restored to their former condition and will house a clubhouse for the residents, together with a boutique hotel – which will be operated by Bespoke Hotels – which includes a destination restaurant.
The One Crown Place development, designed by architects Kohn Pedersen Fox (KPF), is expected to be completed in Q4 2020. KPF's previous works include Heron Tower in London; Hudson Yards in New York; Northeast Asia Trade Tower in Incheon, South Korea; the Hong Kong International Commerce Centre; and Shanghai World Financial Centre.
Once completed, One Crown Place will house two residential towers located above a podium office space to meet the requirements of modern day occupiers who want to live and work in the same area. The residential accommodation will provide a total of 246 private apartments.
The office space is to be housed in two buildings: a new podium building and the refurbished 54 Wilson Street building, providing 120,000 sq ft and 20,000 sq ft of net floor area respectively. Retail space is to be distributed across the ground floor of all of the buildings. Global property firm CBRE was appointed by AlloyMtd Group in 2015 to act as development manager, to sell the site's 246 private apartments and lease 140,000 sq ft of commercial space.
Construction is set to be completed by the end of 2020.AlloyMtd Group Chief Executive Officer, Tee Kim Siew, said:"We are very pleased to have appointed Mace to deliver this iconic mixed-use development in Central London. This is a major milestone for the project and for AlloyMtd Group and demonstrates our commitment to delivering a world-class, vibrant destination located in one of the capital's most exciting areas.
"We look forward to working alongside Mace to realise our vision for this landmark scheme and see them forge ahead with construction for the new office podium and residential buildings, following the completion of the groundworks and hotel stabilisation.
"The development offers the highest standards in both residential and retail with top British design, creating a new live-work hub right on the edge of the City of London that is not just Monday-Friday, nine-to-five."
Gareth Lewis, Mace's Chief Operating Officer for Construction, said:"After working on the pre-construction phase of One Crown Place we're very pleased to have Mace's role confirmed on the construction of the project. We thank AlloyMtd Group for the faith and trust they are placing in us to deliver such a fantastic scheme on their behalf.
"The project's unique design will make for a complex construction delivery; particularly the engineering behind the three-storey steel truss that supports the two towers. We look forward to working closely with AlloyMtd Group and our supply chain partners to overcome those challenges and deliver a project which will leave a lasting legacy for London."