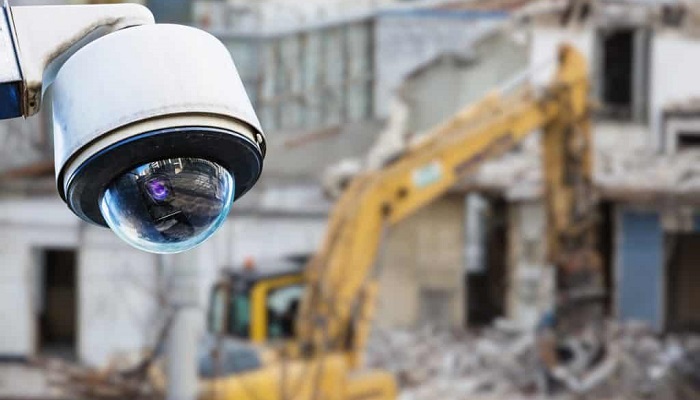 Based on some of the most recent stats, construction site crime costs range from $300 million to a staggering $1 billion per year, with California, Texas, and Florida being the most affected states in the US. Data also shows that only 25% of stolen construction materials are recovered. In addition to theft, construction sites can also be a target of vandalism, trespassing, and other security risks.
These considerations show how important it is for construction companies to take measures to deter crime or collect evidence when crimes happen. One of the essential components of a construction site's security strategy is video cameras.
In this article, we will illustrate the various types of camera devices, the factors to consider when choosing one, and the best practices to follow.
Types of Cameras
IP Pan Tilt Zoom Cameras
If you want to cover a very wide area with one single device, IP PTZ cameras are one of the best options available. They typically feature high-definition capabilities and weather-proof design, which make them very suitable for outdoor use.
4k Live Cameras
These devices have become very popular thanks to their ability to capture high-quality footage and stream live video of construction site activities. With 4K live cameras, you can effectively monitor equipment and building materials.
Time Lapse Security Cameras
Having a comprehensive view of the project (from start to finish) can be very helpful for managers and developers. Time-lapse security cameras allow you to capture images at regular intervals and then combine them into a video to watch the entire process in just a few minutes.
Night Vision Security Cameras
These cameras provide a compelling way to monitor the construction site, even in non-light or low-live conditions. They typically come with infrared technology, which makes it possible to capture great footage even in extremely dark situations. After installing them, you'll be able to capture clear footage and detect motion at any time of the day or night.
Battery-Powered Wireless Security Cameras
Thanks to their long-running and rechargeable batteries, these cameras don't require any type of wiring, meaning you can monitor your construction site without having to worry about electricity. This is a great advantage for construction sites located in very remote areas.
SolarPowered Securi-ty Cameras
If you are looking for a cost-effective and eco-friendly way to protect your construction site from theft and vandalism, solar-powered cameras are one of the best available options. These devices draw power from solar panels, which you can purchase separately or alongside the cameras. They don't require any hard wiring, and installation is usually straightforward. You can typically install them without having to disrupt your current infrastructure. Relying on solar power also makes these cameras more reliable than wired ones, which can more easily fail due to external and uncontrollable factors.
Floodlight Cameras
These cameras can be used both indoors and outdoors and typically feature motion detection, audio recording, and night vision. It's important to select a floodlight camera that is compatible with your current security system and to carefully determine how many of these cameras you will need based on the size of the area you want to cover.
Remote security cameras
Being able to access security camera footage from any location is an increasingly important factor for construction site managers. This is especially true for those projects that span multiple locations and require constant monitoring. Another benefit of these cameras is that they help cut costs by eliminating or reducing the need for physical guards and other security personnel.
Factors to Consider When Choosing the Right Construction Site Security Camera System
Your Project's Size
Size and scope are two of the most important criteria when deciding the right security camera solutions for your construction site or project. How large your project is will determine both the number and types of cameras you need. While a large project may demand multiple cameras equipped with night vision and motion detection capabilities, a smaller project usually requires only a few basic security cameras.
Your Project's Available Budget
Your available budget is another factor that plays a major role in choosing the kind of video security solutions you can implement for your construction site. The overall cost of your video security system can vary greatly based on the type of equipment and features you will need. If you are going for a basic design with only cameras and recording devices, you can probably stay within a reasonable budget. However, costs will inevitably spike if you need more advanced features, such as motion detection and facial recognition.
When budgeting for your video security solutions, you should also consider installation costs, which can range from just a few hundred to several thousand dollars, depending on the size and scope of the project. It's also a good idea to estimate future maintenance and repair costs.
Other costs related to managing a video security system include cloud storage and remote monitoring services. These fees can add up over time, so you should factor them into your budget when determining which type of security system you want to implement.
Tips For Installing and Maintaining a Video Security System for a Construction Site
There are several factors you should keep in mind when it comes to the installation and maintenance of a video security system.
First of all, you should make sure that every way (e.g., doors or windows) to the construction site is guarded by cameras. Nobody should be able to access the site without being recorded by a security device. You also want your outdoor cameras to be visible so that those who plan to access the site without permission know they are being monitored. This can be extremely helpful in deterring thefts, vandalism, and other crimes.
Second, you want to set up your cameras in a way that all areas of your construction site can be effectively monitored. You should also consider lighting needs and avoid dark spots as much as possible.
Thirdly, it's crucial to remove any objects that may obstruct your cameras' view. You should also cleanse lenses on a regular basis to make sure the images captured by your camera are as clean as possible. Lenses should also be frequently inspected for any damage that could affect their performance.
Finally, your security camera system should be regularly checked by experts for any malfunction that could negatively impact its performance. Regular and professional maintenance is crucial to ensure that your video security cameras remain effective and are thus able to minimize threats.