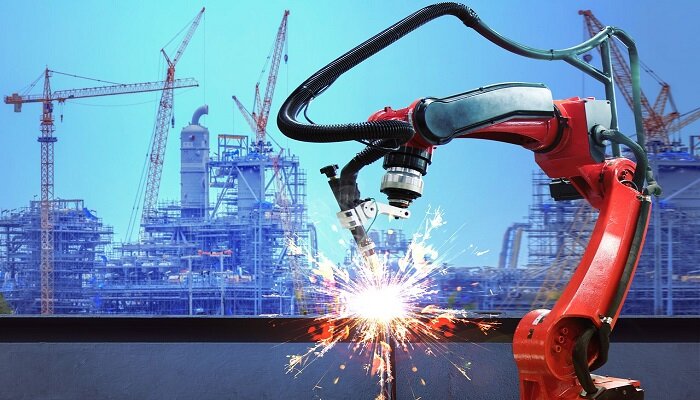 The Construction Robots Market is poised for substantial growth in the coming years. According to market projections, it is expected to expand from its 2023 valuation of USD 331.70 million to reach an impressive USD 681.80 million by the year 2028. This growth is anticipated to occur at a compound annual growth rate (CAGR) of approximately 15.50% during the forecast period spanning from 2023 to 2028.
Several key factors are driving this significant increase in market revenue. The foremost among these is the escalating pace of urbanization, a global phenomenon that is witnessing exponential growth. Additionally, the penetration of industrialization and the advent of advanced construction and demolition operations are contributing significantly to the growth of the construction robot market.
A notable trend in the construction industry is the heightened focus of construction organizations on minimizing the utilization of building materials and reducing material wastage during the construction process. Research by Autodesk indicates that despite the challenge of obtaining precise figures for waste production on a typical construction site, many construction firms estimate that nearly 30% of the total weight of building materials transported to a construction site ultimately goes to waste.
Moreover, the construction sector is increasingly striving to reduce project timelines, which is further fueling the demand for construction robots. One example of innovation in this field is Printstones, an Austrian-based manufacturer specializing in mobile 3D printing robots for construction. Their latest offering, the Baubot, boasts a modular design that allows for easy third-party customer modifications. Described as a 'multi-functional construction robot,' the Baubot can perform various flexible manufacturing processes, including material transportation, welding, milling, screwdriver, cutting, painting, and even bricklaying.
In May 2022, Dusty Robotics made headlines by securing USD 45 million in funding to introduce the industry's first hardware, software, and services solution aimed at reducing construction errors through advanced robotics. Their FieldPrinter is an innovative solution that automates digital floor techniques on construction sites by printing them full-size on the floor. This remarkable achievement is realized through a combination of cutting-edge hardware, software, and services.
As the need for new infrastructure continues to grow, automated construction solutions are expected to gain momentum in the years to come. According to Redshift, the construction industry faces the challenge of constructing approximately 13,000 buildings daily from now until 2050 to accommodate an expected population of seven billion people residing in urban areas.
However, it's important to acknowledge that there are challenges associated with the implementation of construction robotics. High costs are a significant barrier, both in terms of acquiring the technologies and maintaining them. The initial purchase and integration of these technologies can be expensive, making them accessible primarily to companies with substantial turnovers and competitive market positions. Additionally, automation technologies require periodic updates and maintenance, which can further add to the overall expenses. The maintenance costs for new robotics equipment are particularly high due to the need for specialized technicians.
The COVID-19 pandemic had a profound impact on the construction industry, with construction activities coming to a halt during the initial months of lockdown. Nevertheless, the demand for construction robots witnessed increased interest from the industry due to the safety advantages offered by this technology.
Construction Robots Market Trends
Commercial and Residential Buildings as the Largest Application for Construction Robots
The demand for new commercial and residential infrastructure is a significant driver for the adoption of automated construction solutions. To meet the needs of a rapidly growing urban population, the industry must construct an estimated 13,000 buildings daily until 2050. This monumental task is driven by the expected population growth of seven billion people living in urban areas.
Urbanization is a global trend on the rise. Currently, about 55% of the world's population, equivalent to 4.2 billion people, reside in cities, and this trend is projected to continue. By 2050, nearly seven out of every ten people worldwide are expected to live in urban areas. This shift towards urban living is expected to bring about significant technological changes, including increased automation and the integration of artificial intelligence and robotics to address the unique challenges of urban environments.
Notably, North America leads the world in urbanization, with 82% of its population residing in cities. Latin America and the Caribbean are not far behind, with a degree of urbanization standing at 79%. It is anticipated that the global urban population will increase from 56% in 2020 to 70% by 2050. This rapid urbanization poses challenges, including the need for affordable housing, efficient transportation systems, and basic infrastructure. Informal settlements often result in conflicts, leading to the forced displacement of urban poor populations.
Major economies worldwide are exploring strategies to control housing prices in urban areas, making homes more affordable for lower-income individuals. Urban planning departments in North America and Europe are actively working on constructing additional housing units to moderate housing costs. This is where 3D printing solutions, which offer faster construction times and sustainability benefits, are expected to witness increased demand.
The demand for infrastructure and housing solutions is particularly robust in growing economies, primarily located in the Asia-Pacific region. These economies are expected to accelerate their investments in construction technologies to meet the growing need for residential spaces, such as homes and apartments.
Asia-Pacific Dominance in the Market
The Asia-Pacific region holds significant promise for the construction robotics market, with key countries like India, China, and Japan driving growth. The region's increasing adoption of 3D-printed houses is expected to boost market expansion.
International companies are recognizing the high demand for 3D printing in the region and are actively seeking to expand their presence. For instance, in June 2022, COBOD International, a Danish developer of 3D construction printing technology, entered into a distribution agreement with Fortex, an Australian company. This strategic move aims to bring cutting-edge concrete 3D printing technology to Australia and strengthen 3D construction printing in the Asia-Pacific region.
Asia had already embraced robotics and industrial automation before the COVID-19 pandemic. Post-pandemic, the adoption of these technologies, along with the industries that integrate them, such as manufacturing, logistics, and construction, is expected to continue to rise.
The increasing urbanization in Asia is a key driver for market growth. According to data from the National Bureau of Statistics of China, in 2022, approximately 65.2% of the population in China lived in cities, reflecting a significant increase in urbanization over the past few decades.
While the construction industry holds promising prospects, it also faces the challenge of consistently meeting the demands of extensive construction work. To enhance efficiency, ensure worker and site safety, and ultimately improve productivity and cost-effectiveness, the industry is turning to trends like the integration of construction robots.
Construction Robots Industry Overview
The construction robots market is characterized by fragmentation and the presence of major players such as Brokk AB (Lifco Public AB), Husqvarna AB, Construction Robotics LLC, FBR Ltd., and Advanced Construction Robotics Inc. These market players are actively pursuing strategies like partnerships, innovation, and acquisitions to strengthen their product offerings and gain a competitive edge.
In December 2022, Ekso Bionics, a leading player in exoskeleton technology for both medical and industrial applications, made a significant move by acquiring the Human Motion and Control ("HMC") Business Unit from Parker Hannifin Corporation. This acquisition included the Indegolower limb exoskeleton line of products, as well as plans for the development of robotic-assisted orthotic and prosthetic devices.
Brokk, a world leader in remote-controlled demolition robots, expanded its product lineup in October 2022 with the introduction of the BROKK SURFACE GRINDER 530 (BSG 530) attachment. This attachment is designed for material removal, including tasks such as paint and asbestos removal, surface preparation, and polishing on walls, floors, and ceilings, particularly in renovation and restoration applications.
In August 2022, Husqvarna Construction entered into a strategic partnership with AABTools, a prominent industrial tools and equipment supplier in the region. This collaboration aimed to distribute Husqvarna Construction's range of products, including heavy-duty and high-frequency concrete coring machines, wall saws designed for brick and reinforced concrete, remote-controlled demolition robots, as well as handheld power cutters, dust extractors, and floor saws.