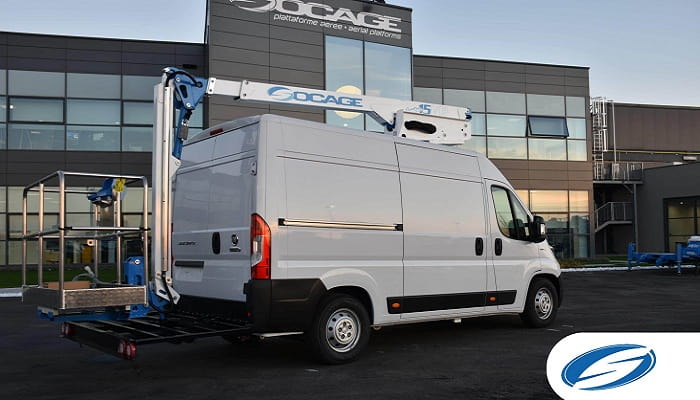 The 15VTJ Socage bucket van is a telescopic platform with a side outreach of 8.5m and a working height of 14.4m, capable of reaching a large working radius with the advantages of a versatile vehicle.
The forSte 15VTJ model has a structural design of the arms in high strength steel, which together with an optimized assembly, guarantees a studied and reliable finish, in a platform with great features and excellent finishes.
The ForSte 15VTJ is designed to be installed on 3500 kg vans, offering great ease of use and reliability. The last section of the arm, in the form of a JIB / articulated arm, also allows for great positioning versatility.
Functional solution with high performance
The operator always has the control of the truck thanks to the ergonomic and precisely proportional controls of the basket. This allows you to perform any movement smoothly, even when maneuvering at the same time.
Customer-focused design
Designed for the customer, it allows the rear door of the van to be opened with the boom gathered in the transport position. In addition, all components, tubes, cables and extension cylinders are located inside the boom for added protection and to avoid damage or breakdown.
The ForSte 15VTJ bucket van has been designed to occupy the minimum space in the loading zone. It also has extras that allow the equipment to be perfectly adjusted to the different needs of each client.
Perfect for electricity and lighting work
This VT series of vans manages to combine the features required for a van-mounted aerial platform, optimized to be extremely versatile on an extremely mobile vehicle. This makes this platform ideal for professionals working in maintenance, electricity, street lighting, cleaning or telecommunications. Particularly useful for quick interventions in urban or difficult to access areas, as well as in jobs involving long journeys where van mobility is clearly an advantage.
SOCAGE / production and sale of aerial platforms
SOCAGE, located in the province of Modena, is a company that produces and markets aerial platforms. Their company is distinguished by the fact that it has a history of more than forty years specializing in platforms for aerial work. Their high quality products are technologically advanced, taking advantage of the evolution of the components to stand out in the market as high-performance, reliable and easy-to-use platforms.