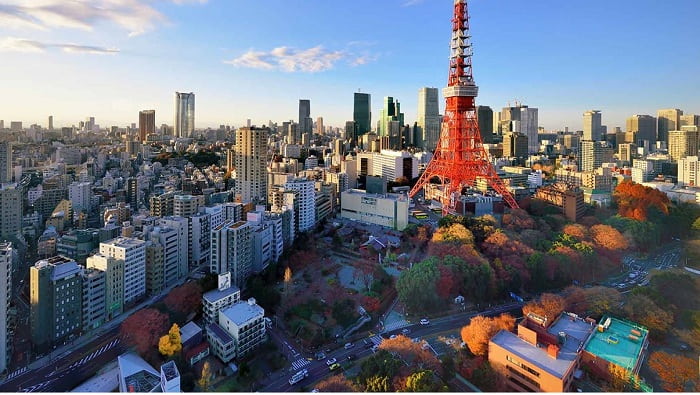 Major US cities are topping global rankings as some of the most expensive places to build, with the cost of construction set to soar over the next two years as pressure on labor and materials coincide with major investment and President Biden's drive to 'build back better' from the COVID-19 pandemic.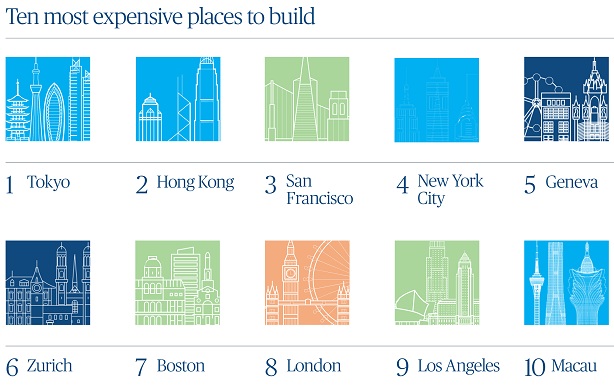 The International Construction Market Survey (ICMS), published today by global professional services company Turner & Townsend, forecasts that rising prices being seen in the global construction sector will be sustained through 2022 and into 2023.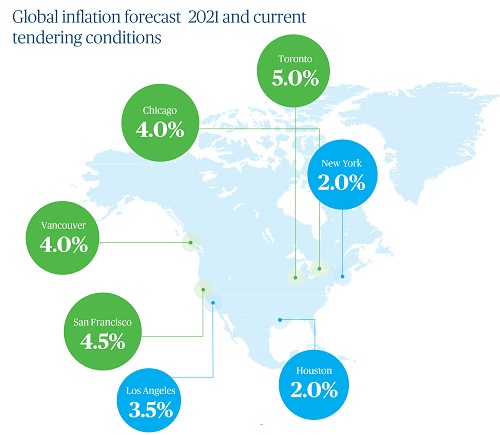 San Francisco tops the list as the most expensive place to build in the US.  With an average cost of $3,720 per sqm, the city comes third in Turner & Townsend's global ranking, following Tokyo ($4,002 per sqm) and Hong Kong ($3,894 per sqm).
New York sits close behind San Francisco at $3,511 per sqm and comes fourth in the global ranking.  In the US it is followed by Boston ($3,375 per sqm), Los Angeles ($3,186 per sqm) and Chicago ($2,935 per sqm).
Rising costs across all 11 markets surveyed within the US are set to be sustained through 2021, 2022 and 2023 according to Turner & Townsend's forecasts.  Inflation rates in San Francisco, which grew by 3.5 percent in 2020, are expected to reach 5 percent through 2022 and 2023.
In Canada, Toronto led among the major cities at $2167 per sqm, quickly followed by Vancouver at $2117 per sqm and Ottawa at $2076 per sqm. Ottawa stood out as being the only City of the 18 markets surveyed in North America to be listed as a "hot" market.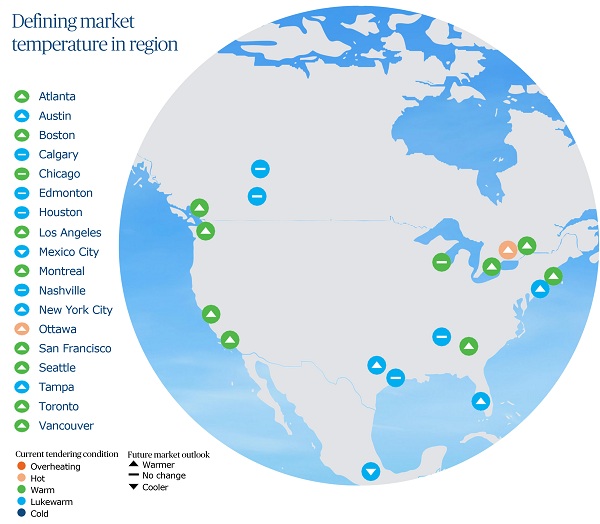 Turner & Townsend's report highlights the major investment opportunities being seen across the country, including in health and life sciences, housing, data centers, logistics warehousing and transport.  The principal driver behind rising costs is however anticipated to be rising infrastructure spending, following President Biden's ambitious plans to commit 1 percent of GDP into areas including transport, utilities, broadband networks and renewable energy over eight years.
The report highlights the dynamic between this investment program and capacity challenges within the labor and materials markets.  Labor costs remain some of the highest in the world for key US cities, reflecting pressure on the construction workforce as well as the unique unionization models in place across the country.  The average cost of labor across a cross-section of job roles stands at $109 per hour in New York and $104 in San Francisco. In Canada, labor costs were approximately half that of the most expensive US cities, with Toronto at $52.9 per hour and Vancouver at $53.1 per hour.

Widespread disruption to global supply chains seen through the pandemic are being sustained by high demand and competition for key materials between global markets including the US, Europe and China.  Globally, demand for steel, softwood and copper piping have seen prices rise sharply over the year, with increases of up to 40 percent seen in some international cities.
About the International Construction Market Survey
Compiling data from Turner & Townsend teams in 90 global markets, the International Construction Market Survey gives an in-depth analysis of construction costs – and what's driving them – around the world.
It measures input costs for materials and labor to calculate the average cost per m2 (ft2) across 27 construction types, including high-rise apartments, city center offices, hospitals, schools, warehouses and shopping malls.
All local construction costs have been converted into US dollars to allow accurate cost comparisons to be made between construction markets in widely diverse economies.  The report also uses the Purchasing Power Parity methodology to determine the relative value of different currencies, and location factor approach, which takes into account factors such as labor productivity, market heat and tender margins.
About Turner & Townsend
Turner & Townsend is an independent professional services company specializing in program management, project management, cost and commercial management and advisory across the real estate, infrastructure and natural resources sectors.
With 111 offices in 45 countries, we draw on our extensive global and industry experience to manage risk while maximizing value and performance during the construction and operation of our clients' assets.