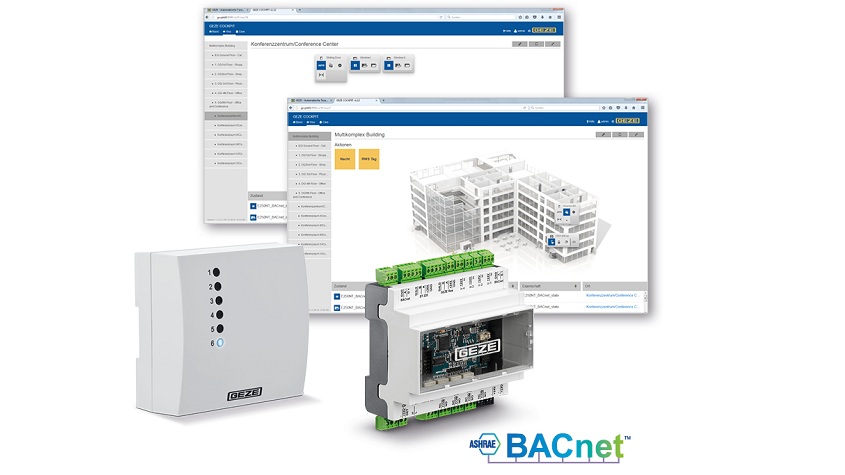 The GEZE Cockpit BACnet building automation system was officially launched at this year's BAU trade fair, and is now commercially available.
The system turns ordinary buildings into 'smart' buildings by now also automatically controlling doors and windows as well as heating, air-conditioning, lighting and shading.
Networking between all the aspects of a potentially smart building heralds new opportunities for secure, convenient, and energy-saving building operation. The key unique benefit of the GEZE Cockpit system is that it brings together the central visualisation, monitoring and control of GEZE and other integrated door, window and safety technology products in a single system of overview. GEZE Cockpit can be used as a stand-alone building automation system, or integrated into a higher-ranking building control system.
Networked and 'intelligent' doors and windows
GEZE Cockpit for the first time enables the full intelligence of GEZE products – including all possible control options and status information – to be integrated into the building's networking. All the Bus participants and sub-systems share information, allowing doors and windows to operate 'intelligently'. As an example, you can determine a door's opening width, or set windows to interact with temperature sensors and heating systems so that they operate according to the outside temperature.
GEZE Cockpit can be programmed to open, close or lock doors and windows in response to a timer, or triggered by a specified event. The system comes into its own in public buildings, where automatic door and window operation and protection requirements vary depending on the time of day. In office buildings, hospitals or shopping centres, for example, multifunctional doors might be 'permanently open', on 'automatic', or in 'exit only' mode. At night, they provide a secure escape, and serve as rescue route doors.
As a networked system, GEZE Cockpit can also monitor and operate doors, change the operating mode, and allow time-controlled functions to be managed remotely. Continuous status feedback means that time-consuming manual checks are a thing of the past. Any deviant door behaviour, and alarm or fault triggers, can be pinpointed quickly and easily, and counter-measures implemented immediately. In the event of danger or a fire, escape doors open automatically.
Ventilation scenarios ensure intelligent interaction between the product groups, creating an optimal indoor climate. Integrated in GEZE Cockpit, innovative façade technology responds to any changes in the climatic conditions: windows close according to the outside temperature, rain and wind, or open depending on the indoor temperature and air quality. Shading is activated in response to solar radiation. Time-controlled ventilation in office buildings, for example, enables natural energy-saving night-time back cooling, and individual rooms can be ventilated only when they need to be used.
PC, tablet or smartphone operation
The control unit forms the logical hub of GEZE building networking. Data is exchanged between GEZE Cockpit and the integrated doors and windows via the BACnet communication standard. Various browser-based software applications can be installed on this BACnet building controller. Any IP-enabled device, such as a PC, tablet or smartphone, can access and act on information from the system via MS/TP interfaces, which receive and return signals from the doors and windows. The IO 420 BACnet interface module ensures the door and window system components are BUS-enabled.
 
Packaged to your building requirement
GEZE Cockpit allows up to 62 GEZE products to be networked – including swing and sliding door systems, escape route and emergency exit protection systems, hold-open systems, windows and window groups, electric strikes and motor locks. The pre-installed GEZE Cockpit BASIC configuration software allows the system to be integrated into a higher-ranking building control system. This basic package is sufficient to detect and display all connected doors and windows at their precise location in the building.
The more sophisticated GEZE Cockpit VISU and GEZE Cockpit VISU+ software packages allow GEZE Cockpit to be used as a stand-alone building automation system. The VISU package also records the current situation and functionality of doors or windows on a graphic interface so that their status can be changed at the touch of a button. Setting scenarios enables several products to be operated simultaneously – also at the touch of a button, or according to a timer. The VISU+ package additionally allows users to configure individual monitoring functions and alarms, and receive status notifications by email. This is a major advantage in a department store, for example, if an escape door emergency push button is activated, or if a door is not locked after the store has closed, as it enables building managers to respond immediately to any location.
GEZE Cockpit – look to the future
There are endless possibilities for GEZE Cockpit. GEZE is constantly testing new networking applications for maximum comfort, security and energy savings under real conditions in its ultra-modern, and of course smart, development centre. The insights gained are used to continually develop the intelligence of all GEZE products, and expand and roll out the benefits for users with the aid of GEZE Cockpit.
For more information, see the GEZE Cockpit microsite www.cockpit.geze.com