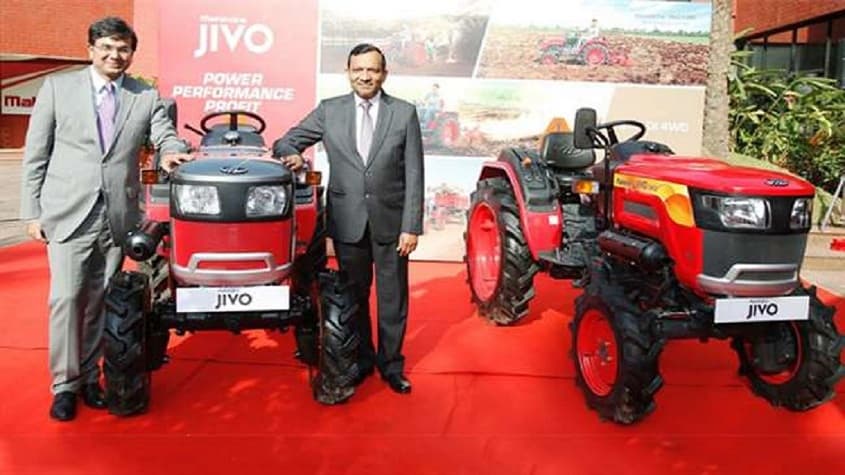 Mahindra & Mahindra Ltd.'s Farm Equipment Sector (FES), a part of the USD 17.8 billion Mahindra Group today announced the launch of the Mahindra JIVO.
A new age, superior technology small tractor platform in the sub 25HP category, the Mahindra JIVO is suitable for row crop and horticulture farming. The tractor is available in the 4WD version with engine power of 24HP and PTO power of 22HP. It will be sold in the states of Maharashtra and Gujarat from April 25, 2017 at a starting price of Rs. 3.90 lacs for the 4WD model, ex-showroom Maharashtra.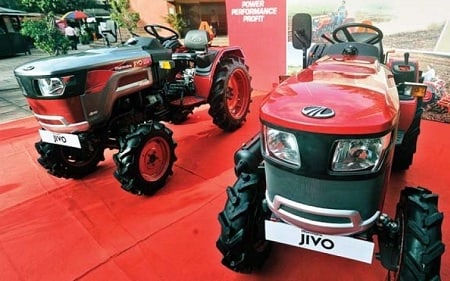 With the launch of JIVO, Mahindra entered the growing segment of Horticulture and Row crop farming. Mahindra JIVO has been designed keeping in mind the latent needs of this specialized farming segment and is an ideal choice for the farmers owing to its narrow and compact build and high power.
Developed ground up, the Mahindra JIVO is a highly versatile tractor that can be used across multiple applications including crop care, land preparation and inter culture activities. Mahindra's first sub 25HP 4WD tractor, it is a high performance tractor that leads the segment with best-in-class torque and fuel efficiency. Further, its highest PTO HP and narrow turning radius make it ideal for spraying in vineyard applications.
Speaking at the Mahindra JIVO launch, Dr. Pawan Goenka, Managing Director, Mahindra & Mahindra Ltd. said, "With Innovation and Technology as its bedrock, Mahindra is today working on redefining the face of farming in the future. We have embarked on various initiatives towards this end and our recently launched Farming 3.0 platform will help in taking farm mechanization to the next level. The launch of the JIVO platform today is another significant step in that direction".
According to Rajesh Jejurikar, President – Farm Equipment Sector, Mahindra & Mahindra Ltd. "We are happy to present Indian farmers with the Mahindra JIVO that will help in small farm mechanisation with its multi-application suitability. The JIVO is a compact 24 HP 4WD tractor offering best in class PTO HP and fuel efficiency with stylish and comfortable design at a very attractive price".
The tractor is specially designed for operator comfort. Its small steering wheel, ease to operate pedals, gear shift lever located on fenders and suspension seat make the JIVO extremely comfortable to operate over long hours.
The Mahindra JIVO also comes with modern styling. With its wrap around head lamps, silver add on, attractive decals and sculpted bonnet this stylish tractor is sure to catch the attention of the farmer.
The new Mahindra JIVO is equipped with key features for more benefits:
Fuel efficient Mahindra DI engine – Best-in-class fuel efficiency
Automatic Depth & Draft Control (ADDC) – Ideal for land preparation activities
8 Forward + 4 Reverse transmission – More speed options to choose from
Side shift gears – Open floor space & comfortable gear shifting
High ground clearance – Useful in crop care applications
4WD – More traction even on wet fields
2 Speed PTO – Improves rotavator application
750 KG lift capacity – Best in class lift allows the farmer to operate bigger implements
High top speed of 25 KMPH – More trips to move farm produce
Highest PTO power – For continuous spraying in Vineyard applications
The Mahindra JIVO 245 4WD will also be available in unique two tone red & silver sheet metal and will be equipped with Mahindra DiGiSENSE technology which will enable farmers to get updates on their tractors' performance as well alerts on a real time basis.
Going forward, a 20 HP 2WD product has been planned on the JIVO platform, which will be launched around September 2017. The Mahindra JIVO will be available across the states of Maharashtra and Gujarat starting from April 25, 2017 and will shortly be available in Karnataka and Madhya Pradesh.
About Mahindra
The Mahindra Group is a USD 17.8 billion federation of companies that enables people to rise through innovative mobility solutions, driving rural prosperity, enhancing urban living, nurturing new businesses and fostering communities. It has a leadership position in utility vehicles, information technology, financial services and vacation ownership in India and is the world's largest tractor company, by volume. It also enjoys a strong presence in agribusiness, components, commercial vehicles, consulting services, energy, industrial equipment, logistics, real estate, steel, aerospace, defence and two wheelers. Headquartered in India, Mahindra employs over 200,000 people across 100 countries.
Media contact information:
Mohan Nair
Vice President (Communications)
Mahindra & Mahindra Ltd.
Office Direct Line – + 91 22 28468510 
Office Email Address – nair.mohan@mahindra.com