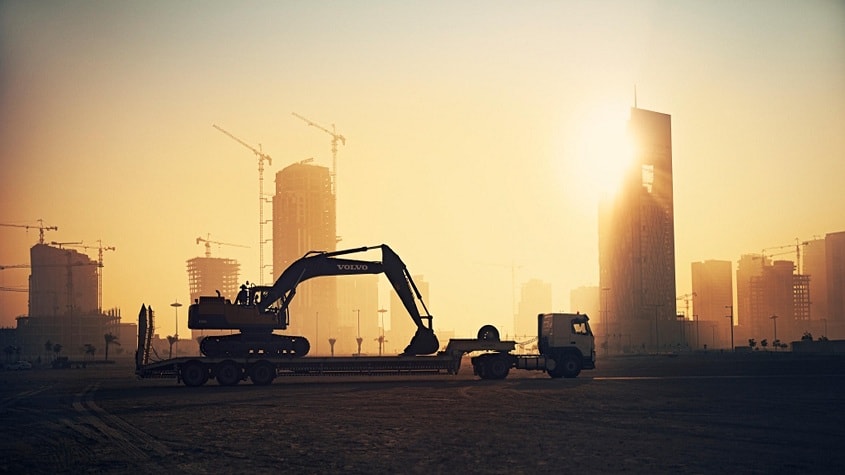 From ice cold glaciers in Northern Sweden, to the sweltering deserts of Qatar, Volvo Construction Equipment takes on a very different challenge in the second episode of its brand campaign, 'Building Tomorrow', by profiling its machines helping to build the sustainable city of Lusail, Qatar.
launched in December 2016, the campaign promotes the ways in which Volvo CE is helping to drive a more sustainable future. The campaign is supported by a series of short films, profiling Volvo CE customers using Volvo machines in an array of innovative construction projects, which are helping to 'build the world we want to live in'. "This may be an ambitious statement, but it is one that brings alignment and purpose to Volvo CE's sustainability ambitions," said Martin Weissburg, member of the Volvo Group executive board and president of Volvo CE.
The first film in the series featured the ICEHOTEL in Northern Sweden. In biting temperatures, which can reach as low as -40ºC, Volvo CE machines are captured helping to rebuild the iconic hotel, using ice harvested from the nearby Torne River.
The second episode takes Volvo CE to the north of Doha, Qatar, where the new sustainable Lusail City is being built. In temperatures reaching up to 50ºC, over 240 Volvo machines have been hard at work – enduring 24-hour days, based on a three-shift cycle – building a town designed to support 250,000 residents.
STATE-OF-THE-ART LIVING
Part of Qatar's 'Vision 2030'– which aims to transform the Middle Eastern state into a society capable of achieving sustainable development by 2030 – Lusail City represents an ambitious vision for the future of Qatar.
Turning this vision into a reality, Lusail is being fitted with a district cooling system, featuring 175km of piping – making it one of the world's largest central cooling systems. This will save an estimated 200,000 tons of carbon dioxide emissions annually, limiting the harmful effects on the ozone layer. Moreover, a 24km waste pipe is being laid underneath the city, as an advanced and efficient way of disposing of human waste to recycling and treatment plants outside of the city.
To encourage residents to adopt a sustainable lifestyle, a light railway, water-taxi system and underground pedestrian tunnels are also being constructed, promoting alternative means of travel.
Lusail has been under construction since 2009, and more than 45,000 workers are on site each day. A number of Volvo CE excavators, articulated haulers, wheel loaders and soil compactors are on site daily, clearing room for foundations and underground tunnels.
Though digging through the porous sandstone isn't easy, it is the intense heat that provides the biggest challenge. "All machines must be equipped with air-conditioning units and operators are instructed to take regular breaks to prevent fatigue and heatstroke," said Hadi Kaii, machine owner and Volvo CE customer at EIB Qatar.
"Volvo CE is just one in many of companies involved in this project," said Shahir El Essawy, business director of the Middle East and Africa at Volvo CE. "It has been an honor to work alongside Essa Mohammed Ali Kaldari and his team in building this iconic city."
A SUSTAINABLE FUTURE
The third 'Building Tomorrow' episode will be launched in June, and the series will be concluded with a final brand film, 'Good morning tomorrow,' which brings together a range of customer success stories, all endeavoring to build a better future for society.
"As a major player in the industry, we have a responsibility to provide customers with sustainable solutions, which are beneficial to the environment and society," said Carl Slotte, president of sales region EMEA at Volvo CE. "Together with our customers, we have the ability to shape what the world is going to be like in the future."