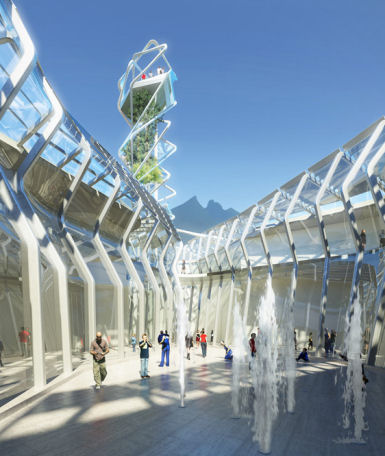 Architect Iñaki Echeverria has been commissioned to design two high profile projects in México that will dramatically remake the landscape. The first, El Parque Ecologico Laso de Texcoco, is to be the world's largest urban park.
The project will occupy a region of the México City valley originally covered by Lake Texcoco and will encompass an area more than 35,000 acres, roughly 42 times larger than Central Park. The project is highly sustainable and involves the work of over 150 specialists from multiple fields. Key elements include a lake, wetland, meadow and forest habitats; renewable energy installations, community gardens, and wastewater treatment facilities.
Echeverria's other project is a children's museum carved into the landscape. Scheduled to open in winter 2012, Papalote Verde Children's Museum, which is located in Monterrey, the industrial heart of México, will be an interactive museum that integrates the many green technologies into a bold structure that itself will become part of the learning experience. The subterranean space reduces environmental and site impact and avoids conflict with the functioning Parque Fundidora nearby. It is expected to become México's first LEED Platinum building.