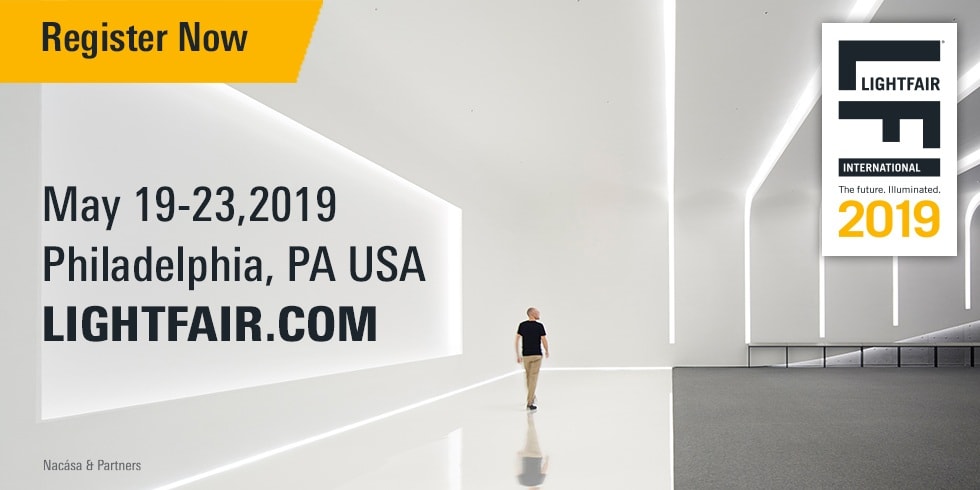 The 30th-annual staging of LIGHTFAIR® International in Philadelphia will reveal the synergy of light in life with the newest solutions in lighting, connectivity, design and integration presented in a trade show and conference driven by innovation. LIGHTFAIR's 2019 return to the Pennsylvania Convention Center May 19 – 23 (Pre-Conference LIGHTFAIR Institute®: May 19 – 20; Trade Show & Conference: May 21 – 23) marks its third Philadelphia staging since 2011 with more than 500 exhibitors and 40 product categories filling six exhibit halls.
The world's largest annual architectural and commercial lighting trade show and conference will register thousands of attendees to explore the innovations and technologies that are setting the stage for the future. The 2019 trade show floor—highlighted by the forward-looking IoT and Intelligent Lighting Pavilions—will be its largest yet, and the accompanying Conference program features dominant thought leaders from many sectors that will inform and inspire attendees with leading-edge knowledge. The global lighting, technology and design community will have the opportunity to connect with industry professionals from across the globe.
The five-day LIGHTFAIR International Conferencepresents a custom curriculum developed by lighting, technology and design experts serving on the select LFI Conference Advisory Committee. The Pre-Conference and Conference program will feature 76 courses with 140 speakers leading more than 170 hours of educational options all with AIA, ASLA, BOMI, IDCEC, IEEE, IES and NCQLP accreditation.
Headlining the LFI Conference are keynote speaker Caleb Harper, principal investigator and director of the Open Agriculture (OpenAG) initiative at the MIT Media Lab and Opening Day speaker Alex Kanjeev, president of O'Leary Ventures. Harper gives his keynote presentation on Monday, May 20, 2019. Kanjeevpresents his remarks in the newly named LFI Live Lounge on Tuesday, May 21, 2019.
Harper is a National Geographic Emerging Explorer and a member of the World Economic Forum (WEF) New Vision for Agriculture Transformation Leaders Network. His research focuses in the areas of control environment design, actuated sensing, control automation and data-driven resource, energy and biologic optimization. His diverse group of engineers, architects, and scientists, together with strategic partners, is developing open-source agricultural hardware, software and data common with the goal of creating a more agile, responsive and collaborative food system. Harper's work has been featured by TIME, WIRED, The Economist, National Geographic, The Smithsonian, Huffington Post, Popular Science, IEEE, and TED.
Prior to joining the MIT Media Lab in 2011, Harper worked professionally as an Architect designing and developing data centers, health care and semi-conductor fabrication facilities. He has consulted with multiple international development agencies, including USAID, World Bank, Inter-American Development Bank, and the Delhi Development Authority on high-density urban development projects.
In a no-nonsense, informative, and uplifting Opening Day speech "Everything is Changing and So Should You: How to Crush It (or Be Crushed) in the Super-Economy of Tomorrow," Kenjeev will unpack five unstoppable mega-trends to inspires LFI Conference attendees to see big opportunities on the horizon.
As president of O'Leary Ventures, Kenjeev is Kevin O'Leary's right-hand man. He negotiates with, oversees, and mentors a portfolio of rapidly growing businesses across many industries. He also co-founded a software company that was acquired three years later for more than $100 million, is an investor CNBC's Make Me a Millionaire Inventor and a frequent contributor on CTV.
New to the Conference is the IoT& Connected Lighting Forum. The IoT& Connected Lighting Forum addresses connected lighting through a suggested design guide and a field study examining creation of reliable IT networks through smart lighting infrastructure, and using visible light through LiFi to carry data and information. It also addresses smart streetlights and master-planned connected cities.
The Light & Health Forum, which explores the non-visual effects of light on humans, returns with new courses.
Beyond the Conference, new events in the newly christened LFI Live Lounge and the New Exhibitor Pavilion include daily curated trade show tours, emerging professional and student programs, and celebrations for LIGHTFAIR's 30th anniversary plus opportunities for attendees to connect with colleagues from all over the world for networking, education and fun. Attendees can also tour Philadelphia landmarks Dilworth Park and Liacouras Center.
Preceding and setting the stage for the trade show opening, the prestigious LFI Innovation Awards® will highlight the industry's most innovative products and designs introduced during the last 12 months. The presentation will take place on May 21.
Lighting and design professionals will connect with LIGHTFAIR via social media using #LFI2019. The ongoing conversation on Facebook, Twitter, Instagram and LinkedIn keeps everyone up-to-date on the newest information from LIGHTFAIR. Videos illustrating the LIGHTFAIR experience will be released before, during and after the event on YouTube. The LIGHTFAIR website and app are the go-to resources for the latest information about the event.
For more information about LIGHTFAIR International, please visit LIGHTFAIR.COM.