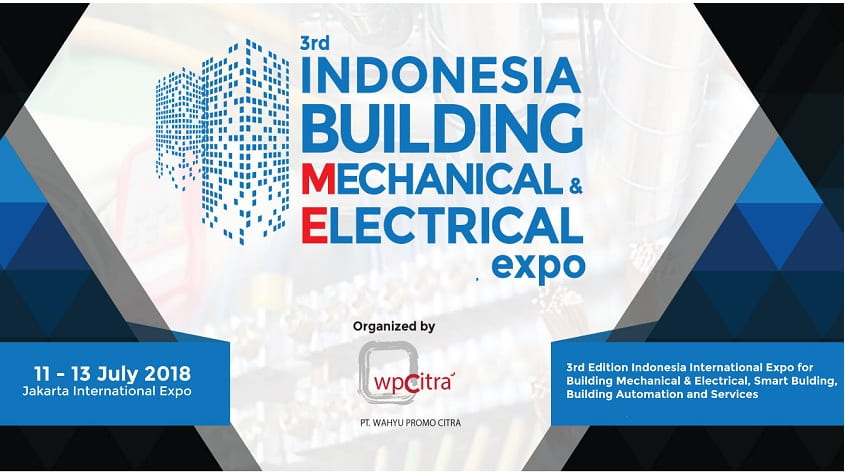 Indonesia Building Mechanical & electrical Expo
Indonesia Building Mechanical & Electrical Expo – the largest biennial trade fair for building mechanical electrical, smart building, allied building services and energy efficiency in Indonesia.
The 3 days main industry event (in conjunction with Indonesia Smart Building Smart City Expo Week, integrating 3rd Indonesia Lift & Escalator Expo, 3rd Indonesia HVACR and Energy Efficiency Expo, and 2nd Facility Management Expo) is set to display full spectrum of products, technology, and services for the building systems and automation, building mechanical electrical, air conditioning system, refrigeration, ventilation, heating, energy efficiency solutions, lift and escalator, and building services.
Industry Overview
"It is expected that the number of skyscrapers in Jakarta to double by 2018 as developers tap into the booming demand for property. And within the next 5 – 10 years, Jakarta will be among the top of 20 ASIA City."
Indonesia with over 240 million populations is the world's 4th largest economy, the biggest market in Southeast Asia and accounts as the fastest growing economy after China and India. In times of uncertainty of the Europe and the US economy, Indonesia remains one of the world's strong, promising emerging markets due to its large domestic demand.
The rapid growth of Indonesia's economy has increased the demand for building offices and accelerated expansion, among others, in the healthcare, pharmaceutical, shopping centers, hospitality, and automotive production-base. This in turn multiplied the demand for better lift and elevator solutions, building mechanical electrical products, and innovative energy efficient products.
Event Highlights & Feature

Indonesia Smart City Smart Building Conference
On-Floor Seminars Free Seminars where attendees can learn about productivity, innovation and the latest technology solutions.
Technical Workshop
Presentation by Exhibitors
Country Pavilions embrace the latest trends in the region with international exhibitors!
Expected Scale
150 Companies
100 Booths
10000 Trade Visitors
Event Name:  Indonesia Building Mechanical & Electrical Expo
Event Date:  11 – 13 July 2018
Event Venue:   Jakarta International Expo Kemayora                                                                                                                                                           Event Organizers:  PT WAHYU PROMO CITRA                                                                                                                                                                   URL: URL: www.wpcitra.co.id