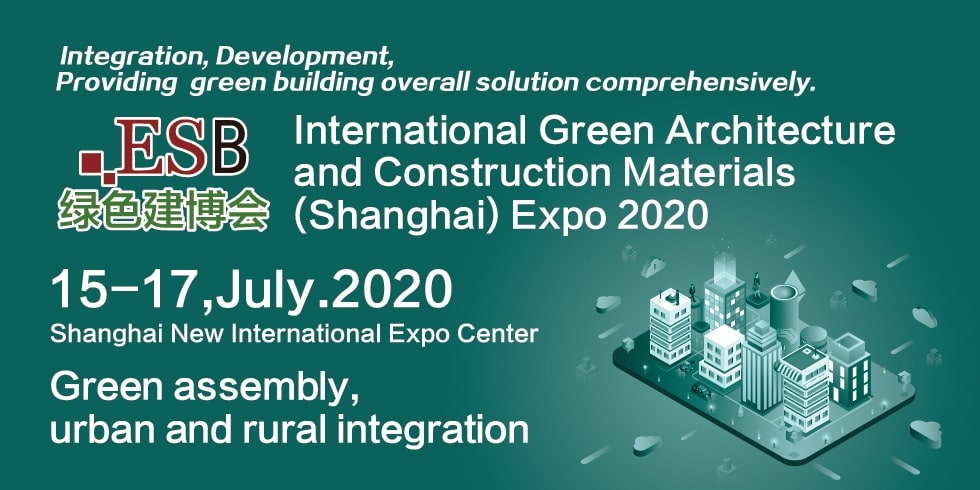 As a professional trade fair of building materials — International Green Architecture and Construction Materials (Shanghai) Expo has been deeply engaged in China's green building industry for 16 years. In 2020, ESBuild will integrate existing resources, reset the exhibition concept of "providing comprehensive green building solutions", and launch the integration of six major sectors.
The exhibition covers building energy conservation, prefabricated building and parts, internal and external wall system, interior decoration, comfort system plate and green building supply chain. The exhibition involves supply chain platform and supervision, prefabricated decoration technology, integration of thermal insulation and decoration, integrated wall, hvac and fresh air equipment and other related content. The exhibition will have a total exhibition area of 70,000 square meters, with 1,000 exhibitors participating, and the number of professional visitors is expected to exceed 80,000.
Event Name:
ES BUILD 2020
Date:
July 15-17, 2020
Address:
Shanghai New International Expo Center (2345 Longyang Road, Pudong)
Area: 70,000 square meters
Organization:
China Building Ceramics & Sanitaryware Association
China Council for the Promotion of International Trade, Cooperative & integrated building committee
Associazione Nuova Generazione Italo-Cinese
Associazione Italy China Architectural Forum
Shanghai Building Materials Industry Association
Shanghai Modern International Exhibition Co., Ltd.
Shanghai Donnor Exhibition Service Co., Ltd.
Co-organizer:
Shanghai Giant Exhibition Co., Ltd.
Web:
www.wmtexpo.com