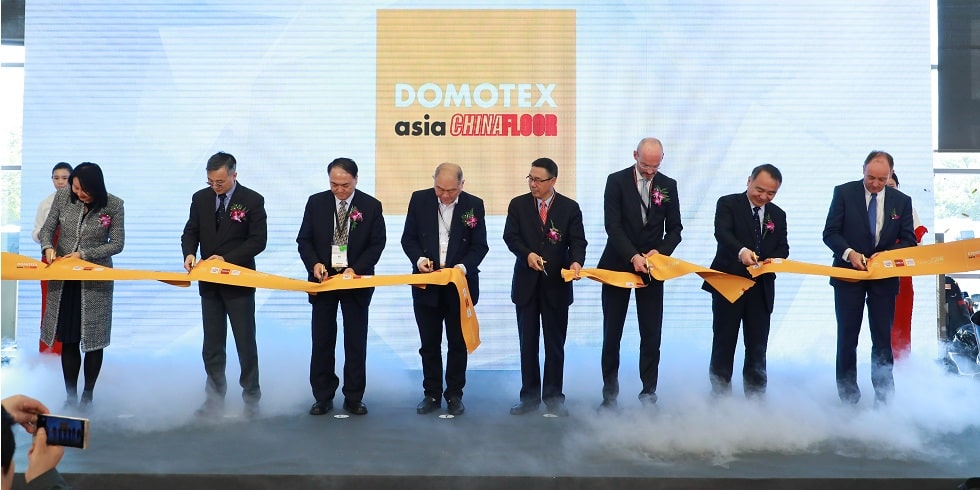 DOMOTEX asia/CHINAFLOOR is the leading flooring exhibition in the Asian-Pacific region and the second largest flooring show worldwide. In 2019 the show gathered 1,579 exhibitors from 36 countries and attracted 66,875 trade visitors, of which 15,092 international, coming from 107 nations. Since the establishment of the show in 1999, DOMOTEX asia/CHINAFLOOR has been regarded as a place to be for floor covering professionals from around the globe and a unique opportunity for manufacturers to position themselves as trendsetters of the flooring industry.
The 2020 edition will continue its successful route, attracting even more professionals and offering the flooring world a unique platform to access and do business in Asia – Pacific, the biggest flooring market in the world.
Apply for Wood and Resilient Flooring Hosted Buyers Program
The organizers of DOMOTEX asia/CHINAFLOOR invite wood and resilient flooring professionals to become Hosted Buyers at the next edition of the show and meet 60 top wood and resilient flooring manufacturers from the region. The selected Hosted Buyers will enjoy FREE hotel accommodation for 4 nights, VIP status, exclusive invitation to the VIP International Party and many more.
Within two decades of development, a complete system has been emerged in the Chinese wood flooring industry, making the country one of the major producers of wood flooring in the world. With roughly 3,000 wood flooring manufacturers in China, the demand is still rising, especially due to the appeal the products have abroad.
The resilient flooring also had another spectacular year of growth in both sales and volume and is gaining again the positive momentum. Mostly due to the performance of subcategories such as SPC rigid core flooring. SPC flooring is a very young category, and yet the flooring experts consider it a revolutionary product. The industry leaders are mainly located in China.
Therefore DOMOTEX asia/CHINAFLOOR invites the flooring professionals to meet China's top Wood, SPC, LVT and WPC flooring companies. The 2020 Wood and Resilient Flooring Hosted Buyers Program will take place on March 23rd at the Sheraton Hotel as part of DOMOTEX asia/CHINAFLOOR.
To apply send the completed Application Form to Mr. Hassan Ahmad: hassan.ahmad@vnuexhibitions.com.cn
Event Name: DOMOTEX asia/CHINAFLOOR
Event Venue: Shanghai New International New Expo Center
Event Date: 24-26 March 2020
Event website link: https://www.domotexasiachinafloor.com/
Event Organizer Name: VNU Exhibitions Asia Ltd
Communication number (with country & area code): +86 21 61956088
Email ID: info@domotexasiachinafloor.com
Event Registration: https://ali6.infosalons.com.cn/vscenter/visitor/v2login.aspx?&exh=QWMEOYJE  
Social Media Link's: https://www.instagram.com/domotexasiachinafloor/
https://twitter.com/DomotexAsia
https://www.facebook.com/domotexasia
https://www.linkedin.com/in/domotexasiachinafloor/