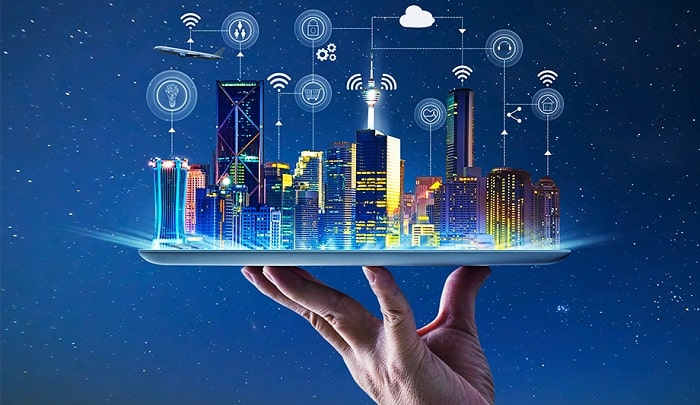 Top 10 advantages of going for smart buildings. How effectively smart technology has evolved in residential and commercial infrastructure these days and the ease with which people have adapted to it.
Benefiting from smart data.

Efficient consumption of energy.

Increase in the asset value.

Decreased consumption.

Real-time action.

Anticipatung well in advance.

Smart maintenance of equipments.

Following green norms.

Increase in work efficiency.

Saving operational cost.
We have all come across the phrase- Change is the only constant in life. Millennials today have got accustomed to this change. Technology has driven us to a point where all we need to do is to choose from the best accessible options which are available in plenty. The place we stay is no different today; yes, it has too come under the gamut of automation. Not so long ago we were used to keeping in mind effective space utilization. In today's times, this theory has been taken over by smart utilization of space. Builders today keeping in mind the role that technology has started to play in everyone's life have started to put in a lot of effort in making the infrastructure smart.
Smart has become more sustainable. The energy efficiency in these smart buildings can be gauged from the fact that some of them have their sources of power generation and at times generate more power than they consume. This not only helps them save costs but also gets rid of frequent power failures. Here are some of the most valuable reasons why people should look out for smarter options to stay or work rather than the conventional ones that tend to burn a hole in their pocket.
Smart buildings give smart data
Right from writing those numbers in the excel sheets; we know what importance these figures have in our lives. Imagine the same occurrence in the place where we stay. Yes, the smart buildings give us the necessary data pertaining to electricity, water consumption, hourly space utilization, etc. This data further helps the residents to take corrective action pertaining to their constructive utilization. The best part is all the data gets collected centrally and hence simplifies the entire process even further.
Efficient consumption of energy
One of the most important aspects of a smart building is that it offers greater efficiency. Energy gets optimized to the fullest. Come to think of it, energy consumption happens to be one of the biggest worries in buildings today. Smart buildings are designed in such a way that the energy gets utilized efficiently irrespective of the internal and external conditions.
Smart buildings result in increasing the asset value
When smart applications become a part of the building, the asset value is bound to increase. Smart energy efficiency measures ensure that the building is well maintained and hence doesn't depreciate over a period of time. Instead, these smart applications add to the asset value of the structure making it a preferred option to go for.
Greater the efficiency, lower the consumption. That's the principal these smart buildings tag themselves with. One can always conduct energy audits and based on the inference implement effective measures to lower the consumption and hence further decrease the cost.
Real-time action becomes easier with the use of smart technology
With data flowing-in, one has access to the energy numbers in real-time. This analysis of data helps in the control and monitoring systems that are placed in the building. The real-time action helps to plan and act well in advance. Preparing for any adversity well in advance makes the smart building concept a big hit these days.
Smart buildings anticipate well in advance
Malfunctioning is well taken care of with the help of sensors placed in these smart buildings. An alert gets triggered as and when there is an issue with any part of a system within the smart building. All this helps in predictive maintenance of the facility saving both costs as well as time.
Smart buildings give birth to smart equipment
Equipment used in a smart building is well taken care of. Not only one gets to know if they have to undergo an overhaul but one can also keep a tab on their expiry as well and make timely renovations and adjustments.
Smart buildings follow green norms
It does not require rocket science to know that smart infrastructure because of its ability to efficiently utilize energy does not cause any harm to the ecology. There is no wastage of energy in its premises which goes on to show that they act as per the ecological consumption guidelines.
Smart buildings tend to provide a healthier, productive and comfortable space for the people staying in. Be it a workspace or residence, with advanced climatic and lighting controls, smart buildings improve the indoor air quality and lighting in a significant way. The aesthetics become much more soothing as compared to a regular infrastructure. In certain cases, it has been observed that these smart buildings improve work efficiency and also help in attaining employee satisfaction.
Smart technology leads to saving operational cost
Responsiveness goes to another level because of the adoption of smart technology. Switching off lights automatically at a space that does not have any occupants at that point in time is a perfect example of how automated systems are in a smart setup. This goes on to save the operational cost and also increase the life of the equipment. These are small but key measures that help in bringing the overall swollen cost come down quite significantly.
One of the most valuable contributions of smart technology is its nature to adapt well with both commercial as well as residential spaces. By not limiting itself to a particular segment, the use of this technology has become more widespread and has connected well with all. Not only that, smart buildings regardless of their usage have started to upgrade themselves as well. Technology, as we all know keeps getting innovated and these smart buildings which we see today are quick to adapt to new technology that makes them more appealing and efficient. Besides, one can rest be assured to keep all their maintenance worries at bay in the smart premises. You enter a smart setup and all of a sudden there is a gush of healthy, dynamic, techno-savvy air that will surround you like none other.