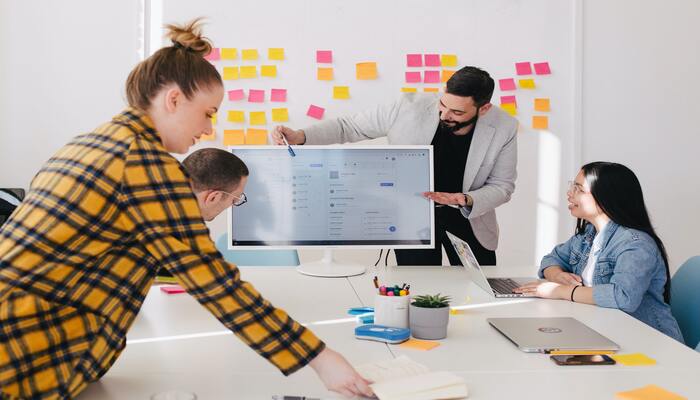 EHS stands for Environment, Health and Safety and refers to many issues regarding protecting people at work and the surrounding environment. EHS programs are built to eliminate or at least diminish exposure to health-damaging factors in the workplace, such as accidents, injuries and hazardous materials.
Business owners must get out of their way to ensure their employees' safety in the workplace. And while EHS systems aren't mandatory, they're certainly recommended in companies, as government agencies like EU-OSHA require organizations to comply with occupational and environmental health and safety regulations.
Whether you're an employer or are planning on a start-up, keeping up with worldwide trends can only open up your mind and help your company thrive. Keep reading this article to understand what EHS means, how business owners support it and what the advantages of using EHS software are.
Why is EHS crucial?
When hearing and thinking of EHS, one must admit that preserving it is an effective way to make work go smoothly. The EHS management system can save lives, and these aspects must never be neglected.
Some might think that sitting at the office doesn't imply many health risks or that back pains and musculoskeletal disorders can result from many factors other than sitting on a chair for hours. Not to say mental health problems are issues of not-so-great concern in many areas and domains in the world, which is an unhealthy mentality that can drag the business down.
To spot and address the dangers in the workplace is to prevent hazards from occurring. Plus, if you implement the proper health-care practices in your employees' workplace, you practically help future generations live in a safer world.
What is EHS in a company?
The EHS management system's goal is to protect workers from work-related illnesses and injuries, identify and mitigate workplace biological, chemical and physical hazards, and improve training and communications that clearly explain the company's objectives for promoting a safe and healthy work environment.
Here's a list of the best practices that you can introduce into your organization's EHS management system guide:
Enforce safety protocols
Teach employees how to work safely
Use an EHS Management software app
Conduct investigations following incidents
Assess the dangers of being exposed to hazardous materials
Pay attention to whether or not safety regulations are being followed.
How to successfully implement EHS Management in a company
It's best to create a precise list of goals that clearly expresses a company's commitment to EHS. The corporations' core principles must be straightforwardly summarized so that employers know they can't deviate from your values.
A brief EHS policy makes communication objectives easier, whereas EHS software helps keep track of progress and convey further goals. After putting these beginning aspects to order, you must ensure the following practices are correctly done:
Never put an end to EHS training. To ensure your employees have the right mindset and understand the importance of their safety at work, you shouldn't stop the EHS education.
Enable reporting processes. Reward employees when they report concerns and mishaps and be reasoning and supportive when they complain about health and safety issues, including mental hazards.
Make consistent changes and improvements. As employees feel comfortable to notify issues, ensure you convey reports and create further health-safety objectives.
Make use of remedial measures. After you solve the issues, ensure you prevent them from happening again.
Track the progress done. Only by comparing and tracking are you able to make progress. A good starting point can be EHS Management App, because writing down and printing means effort and time consumed uselessly.
How do business owners know when they need EHS software?
Some employers start a business with EHS and legality being on the top priority checklist, and these aspects are one of the keys to long-term success and prosperity. Many begin with low investments and use professional EHS apps as they grow or as they become aware of such management's benefits.
If you want to do your job by the book but are torn between sticking to traditional safety means or upgrading your practices by using EHS software, maybe you should try to answer some questions:
Are meeting deadlines and managing workflows giving you headaches?
Do you feel like making reports takes uncommonly much time?
Could storing all the metrics in one place help you cut reporting time?
Have you succeeded to minimize the amounts spent on accident claims and legal costs?
What's EHS software
EHS software is technology that businesses use to manage their regulatory compliance, corporate sustainability activities and data, and enterprise risk. It helps companies prevent unintended events, all while saving precious time.
When CEOs provide their employees with packages like the ones from https://capptions.com/, they help their businesses develop a safety culture effectively. As it is stated above, employers must address hazards when they occur. This isn't really usual since they're often afraid to signal issues for some reason. Yet, others don't fear to signal malfunctions, and this kind of employee should be praised and given as an example.
To connect your workforce and keep the flow of information, an EHS software tool can help you and your staff keep in touch and attach necessary documentation so everyone can access the docs immediately. These apps also help you be up-to-date with government regulatory compliance, understand what aspect needs updates, and manage health data.
Besides these, other advantages to such mobile or desktop applications and programs can be:
Centralizing and storing relevant data.
Saving money by decreasing the time to conduct audits
Removing the need for paper, printed checklists and handwriting
Involving employees and improving morale and productivity.
Conclusion
Awareness isn't enough to protect employees, and a well-developed safety-at-work plan must be conducted, for unforeseen and unwanted hazards can occur anytime. The must-do practices that build the safety culture at work are easier to be said than done, though.
Still, increasingly more directors open up their ears to find ways to improve their employees' environment, health and safety. Adopting EHS software helps them avoid threats affecting their business and employees, which ultimately helps their company gain a positive reputation in the community and even further beyond.