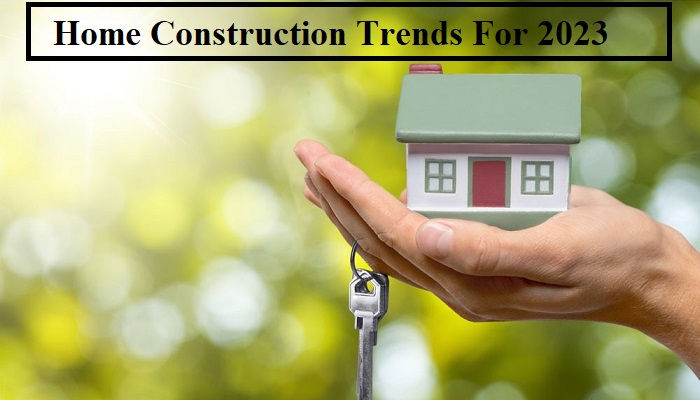 The new year has come and gone, and it's time to look forward to the spring and your construction or renovation plans. As with any other year, new methods, materials, and ideas change how we think about our spaces and how they are designed and built. As a homeowner and builder, you must keep your finger on the pulse of these trends. When you renovate or build new, you want something modern that you will love living in and love showing off. You also want something that will be attractive to potential buyers. Here are some home construction trends you should consider for 2023.
Home Offices
When Covid-19 struck, many people hunkered down in their homes in makeshift offices and worked remotely. Many people still work out of home or have some kind of hybrid arrangement that limits their time in the office. As we dig ourselves out of the pandemic, the time has come for a lot of workers to make their home offices permanent. That involves either building an extension to the home or renovating a room to make it more appropriate for an office. If you are in the situation, then you will have to decide which option is better. Many people are renovating rooms by adding shelving, soundproofing, and adjusting the lighting.
Pole Barn Homes
Things are getting more expensive. That's why builders are looking for more affordable ways of building homes. A pole barn house is one that is built in the style of a barn. It's open concept, and it can be built quickly. That means hours of labor and a lower cost of materials. Pole barn homes also tend to be more energy efficient when they are built since the style of construction leads to few gaps and holes in the exterior of the wall. While they are open-concept, they can be customized to your specifications.
Sustainability
Many of the things we do in our everyday lives with climate change are in the back of our minds. It's changed the way we drive, the way we eat, the way we dress, and yes, the way we build. As a result, more consumers are looking for sustainable building solutions for their home. Materials like brick and wood are very popular, as are recycled materials.
It means windows and doors are properly sealed, so air doesn't escape in the cold or the warmth. Installing a smart thermostat, energy-efficient HVAC system, and optimizing the ductwork are important. Many builders choose to use heat pumps for their needs, which use electricity and heat the air up faster. You can do many things to make your home sustainable and environmentally friendly.
Extending the Interior Living Space
During the pandemic, we were cooped up in our homes. That's more likely what's led to a trend to make the outside more liveable. Sure, your kids can run and play if they want, but the whole family can also sit outside on comfortable sofas and watch TV if you choose. As a result, many builds are creating traditional interior spaces outside of houses. No longer is the barbecue simply something you have in your backyard. Now, your deck can be built around it so that you have prep space and even a fridge if you wish.
Making the exterior as liveable as the interior also means having a strong connection between the two. French doors leading to your patio or backyard can increase this effect. Retractable automated insect nets and canopies are very popular as well.
Multipurpose Everything
Everything is getting more expensive, so you need to make more with less. That includes the space you have to build on. There are many options for rooms with multiple purposes. For instance, that home office that you built? You can fold your desk into the wall and use it as a gym during evenings and weekends.
This extends to furniture. A couch can be converted into an armchair or recliner. Your kitchen table can be an office desk. Storage pieces like lazy Susans and rolling shelves can add space to your kitchen. A true multipurpose space isn't just a room with two rooms' worth of stuff. It's a space that can be comfortably converted for alternate use.
Two-Story Layouts
Having a two-story house is obviously nothing new. However, there is a move towards having a two-story room inside the house. For example, you can add another level to your family room. It will give the impression of space and also of elegance. It's also a talking point for when guests see the unique setting. The benefit of a two-story room is that it increases your living space while not increasing your footprint. It takes the open concept to a whole other level by opening up the vertical space in your home.
Outdoor Bathing
If you are due for a bathroom renovation, then consider installing a shower outdoors. It saves space in your bathroom and is a freeing experience for many builders. An outside shower also reduces the risk of mold in your home. Make sure that you install tiles that are not just waterproof but can also handle the weather. This goes the same for your walls. Since there is more space outside, you can have a stand-up shower, a tub, or a shower that fits several people. Just make sure that you put privacy guards in place.
There are so many ways to build and design a house, and the trends are always changing. However, some trends will last a long while or are unique enough that they will hold some appeal for years to come. If you are building a new home, you need to take advantage of these trends to have a better living space and to be more attractive to buyers in the future.