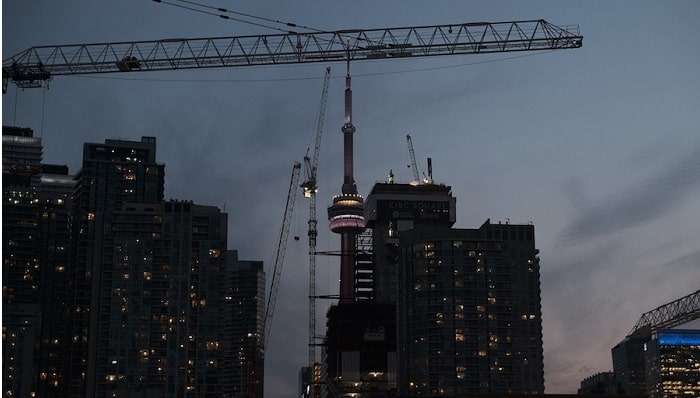 Even as it has tightened construction restrictions to curb COVID-19 spread, Ontario recently made it easier for builders to work on essential projects–a category that includes both critical healthcare construction and new residential projects.
The province, which has more than 11,184 coronavirus infections of Monday recently removed industrial and commercial construction projects from its essential services list.
Quebec has been hit with more than 19,319 confirmed cases, with 939 deaths, since the epidemic began. Ontario contractors working on new hospital buildings and expansions, virus assessment centers and other essential work can now schedule around-the-clock shifts, according to an announcement from provincial Premier Doug Ford.
The province is also temporarily limiting local noise bylaws as well. Extending hours will give contractors greater flexibility in terms of ensuring workers have the physical space they need to remain apart while also helping speed up the delivery of crucial projects.
Workers on construction sites in Ontario and in other Canadian provinces are required to stay at least 2 meters apart – or roughly 6.4 ft.
Ontario's regulations require that workers also have access to washrooms with soap and waterm and time built into the workday schedule for sanitation and cleaning. Workers are also urged not to share tools, or to sanitize them first.
"During this escalating crisis, we are taking immediate steps to ensure the necessary infrastructure is in place, particularly to properly care for those with severe COVID-19 symptoms and other patients who require critical care," said Ford, the Ontario premier, in a press statement.
"That's why we're extending construction hours to allow us to build essential infrastructure faster, while ensuring construction workers can practice physical distancing on work sites to stay safe and healthy."
Whether any residential developers will take advantage of the new 24/7 construction rules remains to be seen. The current provincial and municipal restrictions on construction leaves the door open to projects near completion/
But the extended hours have upset some officials in Toronto, which recently emerged as the North American city with the most construction cranes, according to Rider Levett Bucknall's latest quarterly Index issued last week. The firm noted 121 cranes, accounting for 27% of all in the top 14 urban centers of Canada and the U.S. Los Angeles ranks second at 10%.
The analysis says about 88 cranes are linked to residential high-rise projects, which it says has been a strong Toronto market. But says Rider Levett Bucknall: "it is probable that this pandemic will drive a recession that will have an impact on future crane counts,"
In neighboring Quebec, provincial officials on April 20 gave the green light to contractors and developers to resume work on residential projects if they are set for completion by July 31.
The province will have 300 health inspectors patrolling work sites to enforce social distancing rules, with construction unions also planning to monitor compliance, according to the CBC.