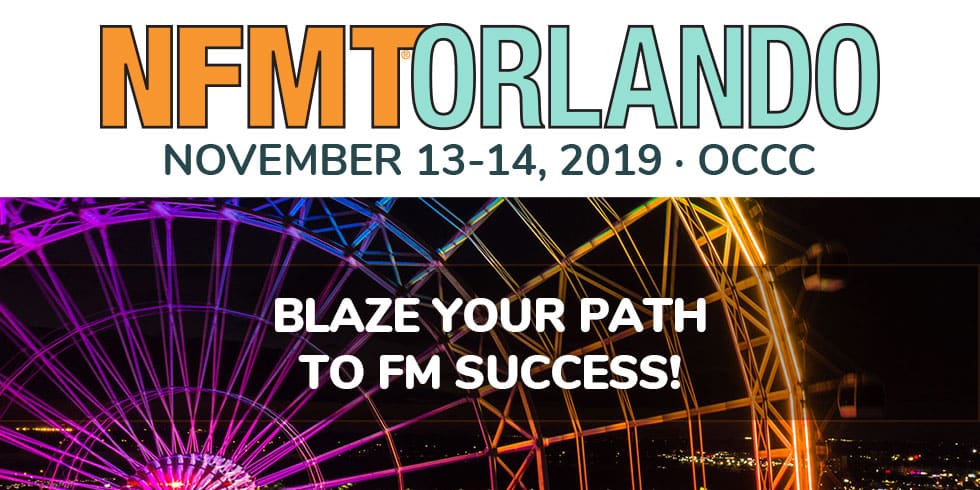 NFMT Orlando is a completely free conference dedicated to professionals responsible for the management, operations, design and construction of commercial and institutional buildings. Conference sessions are focused on energy, assets, management, operations, technology, security and more.
NFMT Orlando allows you to be the first to see the newest products and technologies and listen to ideas from innovators in the Facility Maintenance (FM) world. With unlimited networking possibilities, you will leave with new connections, best practices and trailblazing ideas, empowering you to manage buildings more efficiently and effectively.
What's more? It's in Orlando — the sunny, theme park capital of the world!
Event Name: National Facilities Management & Technology (NFMT) Orlando Conference and Expo
Event Venue: Orange County Convention Center in Orlando, FL
Event Date: November 13 – 14, 2019
Website: NFMT Orlando 2019
Event Organizer Name: Trade Press Media
Communication Number: 1-414-228-7701 ext 344
Email ID: Gina.Doyle@tradepressmedia.com
Social Media Links:
Facebook: https://www.facebook.com/NFMTConference
LinkedIn: https://www.linkedin.com/showcase/nfmtconference/
Twitter: https://twitter.com/nfmt_conference
Instagram: https://www.instagram.com/facilitiesmanagement/