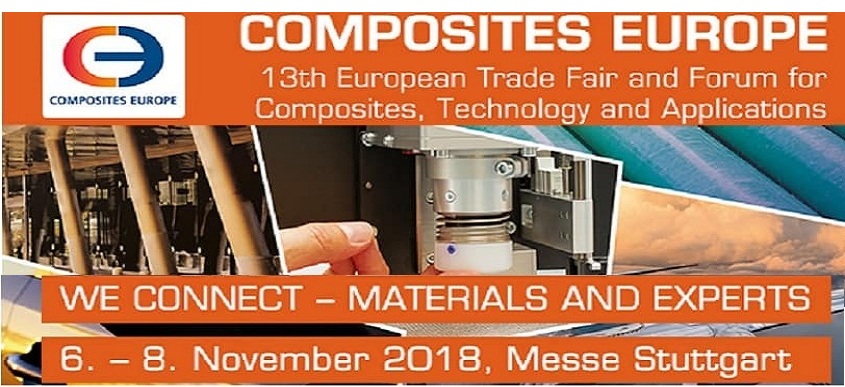 COMPOSITES EUROPE is established as an international business platform for the composite industry. New modules should facilitate the matchmaking and generate new business for the exhibitors.
Technological advances in the process chain are among the current drivers pushing the development of efficient lightweight construction solutions and their implementation in high-volume production. From 6 to 8 November, COMPOSITES EUROPE will show all the manufacturing processes used to make fibre-reinforced plastics, from raw materials and processing methods to lightweight construction innovations in automotive engineering, aerospace, boat building, wind energy and construction.
Visitors will find more than 400 exhibitors from 30 countries in Stuttgart, the leading technology region of the industry, here in Germany, the leading research and development country worldwide. On display will be state-of-the-art technology and the potential of composites – and not just in the exhibition space but also in the numerous event areas, lecture forums, themed guided tours and workshops.
COMPOSITES EUROPE is organised by trade fair organiser Reed Exhibitions in cooperation with the European industry association EuCIA and the trade association Composites Germany, a coalition whose members include the organisations AVK, CCeV, CFK-Valley and the VDMA Working Group Hybrid Lightweight Technologies.
Event Name : COMPOSITES EUROPE – 13th European Trade Fair & Forum for Composites, Technology and Applications
Event Date: 6 – 8 November 2018
Event Venue: Exhibition Centre Stuttgart, Germany
Event Organisers: Reed Exhibitions Germany – Team COMPOSITES EUROPE
Event Contact: +49 211 90191-306
Email: visit@composites-europe.com
URL: www.composites-europe.com